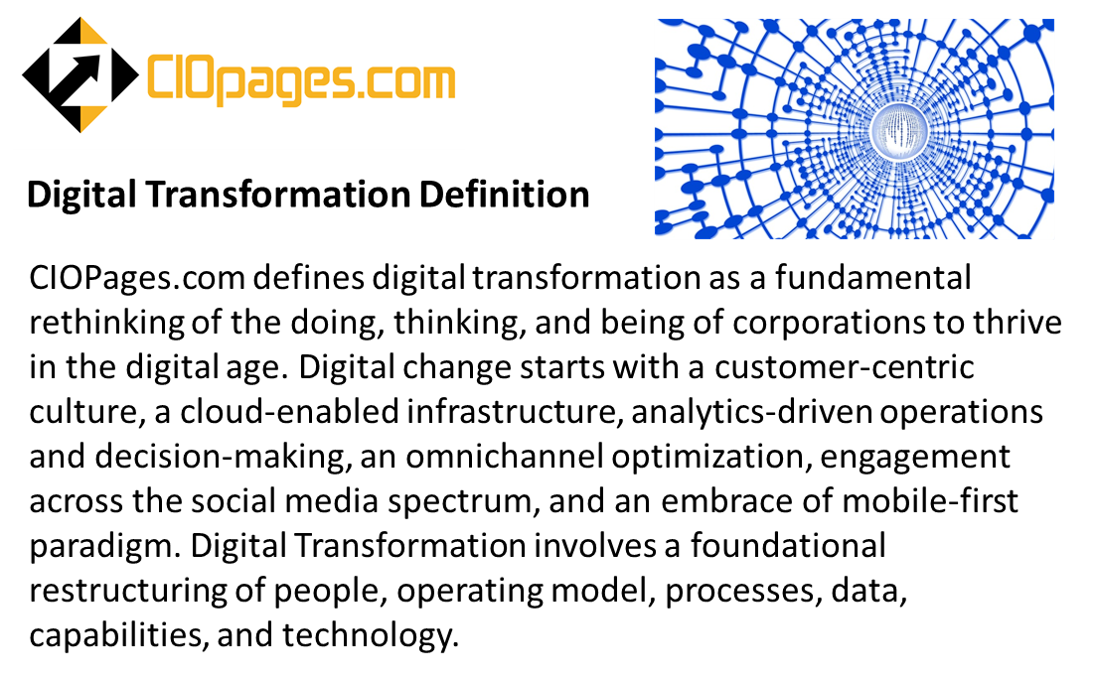 Digital Transformation Definition:  CIOPages.com defines digital transformation as a fundamental rethinking of the doing, thinking, and being of corporations to thrive in the digital age. Digital change starts with a customer-centric culture, a cloud-enabled infrastructure, analytics-driven operations and decision-making, an omnichannel optimization, engagement across the social media spectrum, and an embrace of mobile-first paradigm. Digital Transformation involves a foundational restructuring of people, operating model, processes, data, capabilities, and technology.
Digitalization Impacts the following Organizational Capabilities:
Strategy Development
Decision-Making
Operations
Research and Development
Product Development
Supply Chain
Distribution Channels
Pricing
Customer Management
Marketing and Sales
Infrastructure
The Scope of Digital Transformation:
While it may differ from company to company, and also based on the industry dynamics, the digitalization is an all-encompassing paradigm shift.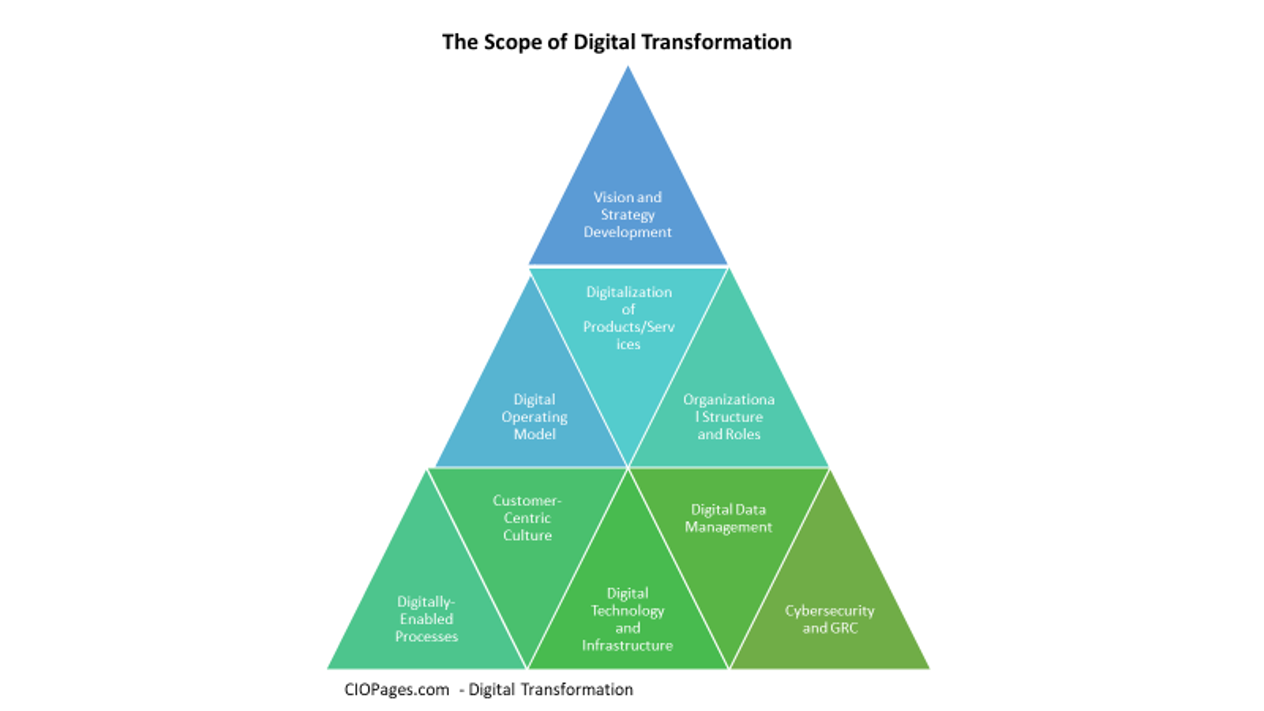 It involves the some or all of the following areas:
Vision and Strategy Development
Digital Operating Model
Digitalization of Products/Services
Organizational Structure and Roles
Digitally-Enabled Processes
Customer-Centric Culture
Digital Technology and Infrastructure
Digital Data Management
Cybersecurity and GRC
Alternative Names:
Digitalization, DX, Digital Transformation, Digitization, Digital Business Transformation
Digital Transformation Definition from Other Firms:
Gartner defines digitalization as, "Digitalization is the use of digital technologies to change a business model and provide new revenue and value-producing opportunities; it is the process of moving to a digital business."

I-Scoop defines digital transformation as, "Digital transformation is the profound transformation of business and organizational activities, processes, competencies, and models to fully leverage the changes and opportunities of a mix of digital technologies and their accelerating impact across society in a strategic and prioritized way, with present and future shifts in mind."

Wikipedia defines digital transformation as, "Digital transformation (DX) is the change associated with the application of digital technology in all aspects of human society. The transformation stage means that digital usages inherently enable new types of innovation and creativity in a particular domain, rather than simply enhance and support traditional methods."

McKinsey defines the digital transformation, rather in a long-winded way, as, "It's tempting to look for simple definitions, but to be meaningful and sustainable, we believe that digital should be seen less as a thing and more a way of doing things. To help make this definition more concrete, we've broken it down into three attributes: creating value at the new frontiers of the business world, creating value in the processes that execute a vision of customer experiences, and building foundational capabilities that support the entire structure."