Artificial Intelligence as a Business Technology
$49.00 – $299.00
Licensing Options
Product FAQs
Product Description
Artificial Intelligence as a Business Technology: Artificial Intelligence (AI) is no longer a lab experiment. It is being used as a viable and valuable business technology. This CIOPages.com Artificial Intelligence as a Business Technology concept briefing addresses the potential of Artificial Intelligence as a business technology and provides a playbook to adopt AI in your enterprise.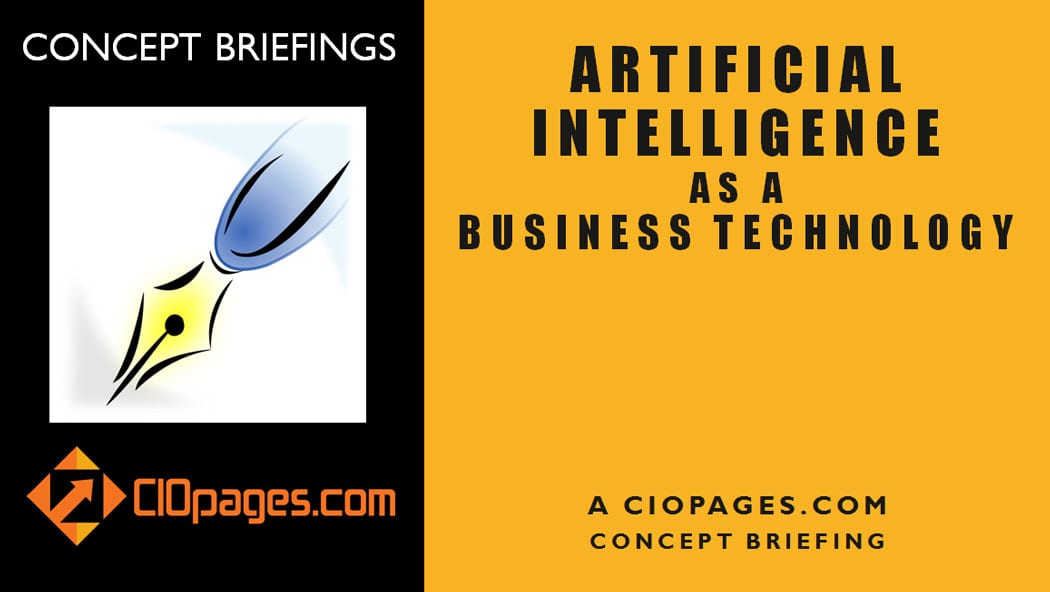 What is Artificial Intelligence as a Business Technology Concept Briefing?
An overview of what is Artificial Intelligence (AI) from a business context
Addresses the buzz around Artificial Intelligence
The current state of AI, how businesses are adopting AI, and making sense of the AI vendor landscape.
Challenges and consideration when adopting AI in your business: Technical, people, skills et al.
The future of AI in the enterprises
How does the Artificial Intelligence as a Business Technology Concept Briefing benefit me?
The concept briefing demystifies Artificial Intelligence and helps you understand its implications and opportunities for your industry/business
Get a jumpstart on understanding the AI players – vendors and competitors – in your industry, and exploring areas where AI can benefit your enterprise.
What is included in Artificial Intelligence as a Business Technology Concept Briefing?
Artificial Intelligence as a Business Technology Concept Briefing is a PowerPoint deck.
The content is both broad and deep with ~40 well structured and information rich slides, which you can reuse with or without modifications.
What is not included?
No primary research or original forecasts.
No in-depth vendor evaluations or rankings.
Artificial Intelligence as a Business Technology – Content Outline
EXECUTIVE SUMMARY OF WHAT IS AI
WHAT IS ALL THIS "AI" BUZZ ABOUT?

What Is AI? | What's The History Of AI? | AI Is Booming | Why is AI Booming?

THE CURRENT STATE OF AI

AI Is Everywhere | How Are Businesses Adopting AI? | What Does The AI Vendor Landscape Look Like? | Making Sense Of AI Vendor Landscape

ADOPTING AI IN YOUR BUSINESS

Technical Considerations/Challenges | "People" Considerations/Challenges | Building Your AI Team: Considerations/Challenges/Composition

THE FUTURE OF AI IN BUSINESS
Caveats:
As the Artificial Intelligence as a Business Technology Concept Briefing is a digital product, there are absolutely NO Returns.
Depending on your industry, and the level of automation, some or all of the content may or may not be relevant to you.
If you are a consultant or a consulting company, there is a different pricing, license, and terms.
Sold on an as-is basis and without any warranties.
This sale does not include implementation help or support. If you need professional services assistance, please contact us.
The sale of this item is bound by our terms of service.
Need Consulting or Advisory Services
What is a CIO Pages Concept Briefing?
CIOPages.com Concept Briefing is an in-depth and multi-dimensional perspective on a topic of interest to business and technology leaders. The content is less of esoteric theory and more focused on making it an actionable advisory briefing
How is it different than a Research Brief?
More often than not, the Research Briefs are an introduction to a concept, a forecast of where things are going, an analysis of the market structure, or an evaluation of the vendor landscape. A CIOPages.com Concept Brief is a result of secondary research and a synthesis and an encapsulation of current thought leadership from across the board to help business and technology leaders get a unified and holistic picture of a topic area with an action orientation.
How do I use Artificial Intelligence as a Business Technology Concept Brief?
Gain an in-depth understanding of a topic or evolve your current thinking
Use some or all slides into your internal presentations
Incorporate ideas and innovations into your projects
Why should I pay when this information is available for free?
Of course, if you search far and wide, the Internet abounds with information. But it takes a lot of time to separate the wheat from the chafe and differentiate the signal from the noise. For executives that are crunched for time, the value of the information and knowledge far exceeds the fee for a briefing.
Who writes these Concept Briefs?
CIOPages.com has access to a talented team of contributors and consultants who are industry practitioners and subject matter experts. Based on our understanding of the market and the voice of our customers, we commission specific topics that have resonance.
Will you do custom research for us?
It depends on various factors, including whether our team of contributors/consultants can add value and provide the depth and breadth you are looking for. Please contact us to discuss your needs.
What type of Professional Services do you offer?
Our typical offerings include:
Lunch and Learn Sessions
Concept Exploration Workshops
Custom Research and Industry Use Cases and Applications
Current State Assessments
Transformation Roadmaps
Vendor RFP Development and Management
Contact Us for more details on our Offerings
Licensing Options:
We keep the licensing options – clean and straightforward.
Individual License: Where we offer an individual license, you can use the deliverable for personal use. You pay only once for using the deliverable forever. You are entitled any new updates within 12 months.
Enterprise License: If you are representing a company, irrespective of size, and intend to use the deliverables as a part of your enterprise transformation, the enterprise license is applicable in your situation. You pay only once for using the deliverable forever. You are entitled any new updates within 12 months.
Consultancy License: A consulting or professional services or IT services company that intends to use the deliverables for their client work need to pay the consultancy license fee. You pay only once for using the deliverable forever. You are entitled any new updates within 12 months.
Product FAQs:
Can I see a Sample Deliverable?
We are sorry, but we cannot send or show sample deliverables. There are two reasons: A) The deliverables are our intellectual property, and we cannot share the same. B) While you may be a genuine buyer, our experience in the past has not been great with too many browsers and not many buyers. We believe the depth of the information in the product description and the snippets we provide are sufficient to understand the scope and quality of our products.
When can I access my deliverables?
We process each transaction manually and hence, processing a deliverable may take anywhere from a few minutes to up to a day. The reason is to ensure appropriate licensing and also validating the deliverables.
Where can I access my deliverables?
Your best bet is to log in to the portal and download the products from the included links. The links do not expire.
Are there any restrictions on Downloads?
Yes. You can only download the products three times. We believe that is sufficient for any genuine usage situation. Of course, once you download, you can save electronic copies to your computer or a cloud drive.
Can I share or sell the deliverables with anyone?
You can share the deliverables within a company for proper use. You cannot share the deliverables outside your company. Selling or giving away free is prohibited, as well.
Can we talk to you on the phone?
Not generally. Compared to our professional services fee, the price of our products is a fraction of what we charge for custom work. Hence, our business model does not support pre-sales support.
Do you offer orientation or support to understand and use your deliverables?
Yes, for a separate fee. You can hire our consultants for remote help and in some cases for onsite assistance. Please Contact Us.