Customer Management Business Requirements
$499.00 – $1,499.00
Licensing Options
Product FAQs
Product Description
Customer Management Business Requirements, a CIOPages.com accelerator, is a comprehensive, industry-agnostic, multi-purpose business requirements list. The client management business requirements is a starting point for any enterprise Customer Management tool or process (Support, Service, Help Desk, Case Management) transformation, including detailed business requirements gathering, and crafting a Vendor RFI/RFP.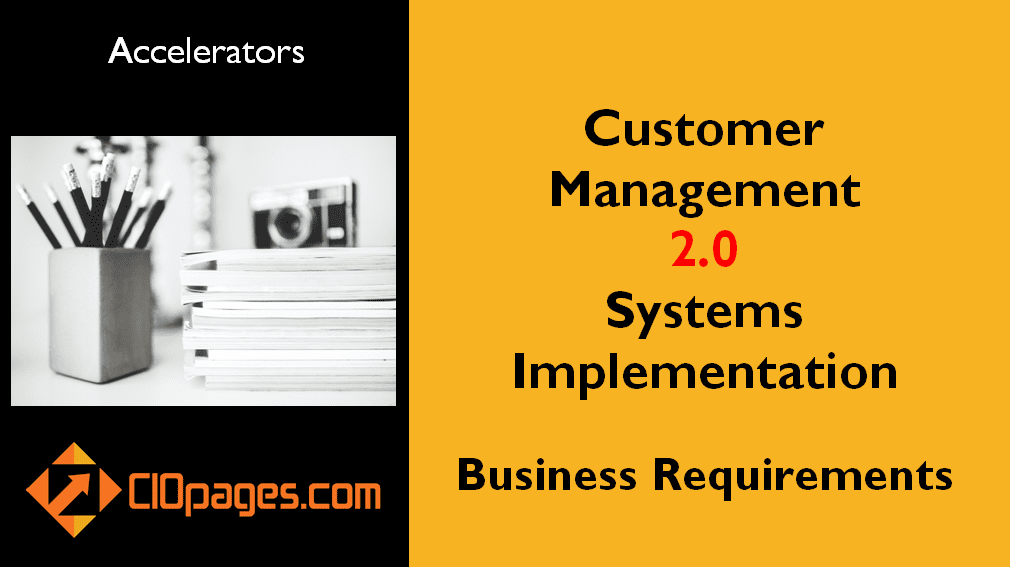 What do I get?
A spreadsheet which contains about ~200 customer management business requirements. Customizing these functional requirements is easy.
The customer management business requirements is broken down into various categories, subcategories (where necessary) and then the business requirements
What do I not get?
Technical, Architecture and Infrastructure Requirements
Typical Vendor RFP questions such as Vendor profile, licensing information, etc. (CIOPages.com offers a separate Vendor RFP template as a separate deliverable.)
What are Customer Management Business Requirements?
As we mentioned, there are about 200 business requirements that cover all key functional areas of Customer Support, Service, Case Management, etc.
What is the format Customer Management Business Requirements?
The Customer Management Business Requirements include a category, and sometimes a subcategory, and then the actual needs framed as what the system must do.  Converting this into other formats, such as agile stories, will be relatively straightforward. If you require help, please contact us. Or check out how to write better requirements.
Caveats:
As the Customer Management Business Requirements is a digital product, there are absolutely NO Returns.
Depending on your industry, the type of Customer management functions, processes and practices you follow, and the scope of your transformation, some of the requirements may not be relevant to you.
If you are a consultant or a consulting company, there is a different pricing, license, and terms.
Sold on an as-is basis and no warranties
This sale does not include implementation help or support. If you need professional services assistance, please contact us.
Please review our standard terms of service.
Need Consulting or Advisory Services?
Are these really "Business Requirements"?
Indeed these are REAL business requirements. Consultants with domain expertise and experience conceptualize and write the customer management business requirements.  The requirements encompass all key areas of Customer Management (lifecycle management, support, service, help desk) and related functions.
How should we use the Customer Management Business Requirements?
More often than not, in every large (and sometimes medium-sized) enterprise, a cross-functional team of business/technology/architecture teams spend countless hours in conference rooms trying to whiteboard and write business requirements from scratch. The more time they devote to core and standard requirements, the more likely they will miss out on something unique, accurate and relevant to the firm. Instead, using CIOPages Customer Management business requirements, you can focus on what's different and unique about your situation. You can spend 90% of your time on the 10% of the requirements that matter. And only 10% of your time on the 90% of needs that are table stakes.
But, our Company is Unique – will it fit us?
Of course, you are unique but not as unique as a unicorn!
We understand and acknowledge each company is slightly different regarding some capabilities as well as how they work. However, while there may be divergence at the edges, there is a lot of convergence at the core between most firms. The differences will be in the relative emphasis on critical processes and absence or presence of specific requirements and workflows based on your unique needs.
Last but not the least, we don't expect our Customer Management Business Requirements (or any other matrix/template, in fact) to fit you 100%. We expect you to take this set of the needs as a straw model or a base set of requirements, and use it as a springboard to achieve the level customization and specificity in business requirements you desire.
If you need professional services help to tailor the requirements to your needs and capture your firm's unique essence, we can help. Contact Us for Advisory Service details.
But, we have a Business Requirements Matrix already?
Well, in that case, either you can go with it, or if you need to validate and cross-reference, you will still find our customer management business requirements matrix valuable. After all, the price is less than the one-hour of time spent on the combined brain power assembled in the room.
What is my ROI?
The Value of Time Spent:
Typically, it takes a team of 5-7 associates to draft the set of business requirements.
A Product Manager
Business Analysts
Functional Experts – 2 or 3 to represent the broad spectrum of customer management functional areas.
You can multiply the average hourly cost of the team and the hours spent, and you'll get the picture.
Opportunity Cost:
In addition to the time spent and the associated costs of drafting routine requirements, you also have to consider the opportunity cost.
By quickly adding/deleting/modifying the base set of requirements, it will allow you the luxury of spending the balance of your quality time in conceptualizing and crafting the unique and specific customer management business requirements.
Of course, let's not forget the "Day Job" each of the SMEs (subject matter experts) could be doing.
Acceleration:
Instead of spending countless hours stretched across weeks or months, you can have a baseline of requirements in a couple of sittings. That helps you expedite and accelerate the transformation.
Licensing Options:
We keep the licensing options – clean and straightforward.
Individual License: Where we offer an individual license, you can use the deliverable for personal use. You pay only once for using the deliverable forever. You are entitled any new updates within 12 months.
Enterprise License: If you are representing a company, irrespective of size, and intend to use the deliverables as a part of your enterprise transformation, the enterprise license is applicable in your situation. You pay only once for using the deliverable forever. You are entitled any new updates within 12 months.
Consultancy License: A consulting or professional services or IT services company that intends to use the deliverables for their client work need to pay the consultancy license fee. You pay only once for using the deliverable forever. You are entitled any new updates within 12 months.
Product FAQs:
Can I see a Sample Deliverable?
We are sorry, but we cannot send or show sample deliverables. There are two reasons: A) The deliverables are our intellectual property, and we cannot share the same. B) While you may be a genuine buyer, our experience in the past has not been great with too many browsers and not many buyers. We believe the depth of the information in the product description and the snippets we provide are sufficient to understand the scope and quality of our products.
When can I access my deliverables?
We process each transaction manually and hence, processing a deliverable may take anywhere from a few minutes to up to a day. The reason is to ensure appropriate licensing and also validating the deliverables.
Where can I access my deliverables?
Your best bet is to log in to the portal and download the products from the included links. The links do not expire.
Are there any restrictions on Downloads?
Yes. You can only download the products three times. We believe that is sufficient for any genuine usage situation. Of course, once you download, you can save electronic copies to your computer or a cloud drive.
Can I share or sell the deliverables with anyone?
You can share the deliverables within a company for proper use. You cannot share the deliverables outside your company. Selling or giving away free is prohibited, as well.
Can we talk to you on the phone?
Not generally. Compared to our professional services fee, the price of our products is a fraction of what we charge for custom work. Hence, our business model does not support pre-sales support.
Do you offer orientation or support to understand and use your deliverables?
Yes, for a separate fee. You can hire our consultants for remote help and in some cases for onsite assistance. Please Contact Us.