Finance Transformation Business Requirements
$499.00 – $1,299.00
Licensing Options
Product FAQs
Product Description
Accounting and Finance Transformation Business Requirements, a CIOPages accelerator, is a comprehensive, industry-agnostic, multi-purpose business requirements list. The Finance transformation business requirements are a starting point for any enterprise accounting and finance transformation projects.  These sample business requirements encompass the entire Record to Report Value Stream and are useful in documenting the finance transformation project needs in medium and large enterprises.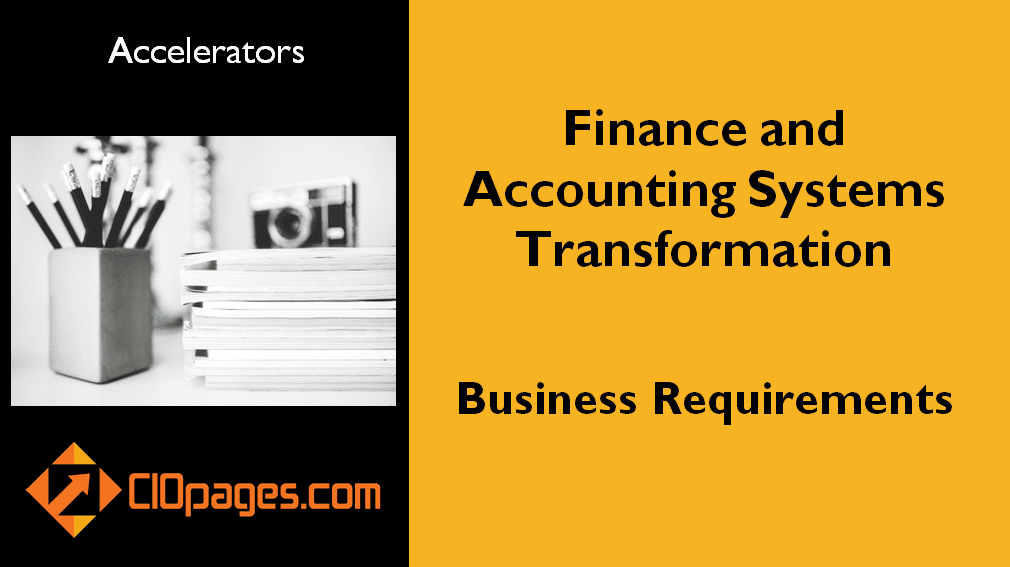 What does the Finance Transformation Business Requirements Matrix include?
Accounting and Finance Transformation Business Requirements deliverable is a spreadsheet with about ~500 business requirements. Project teams can easily customize these requirements to the unique needs of each enterprise.
Depending on the size of your enterprise, the industry, and the accounting and finance operations, you may choose to consolidate some functional requirements, split some, or add or remove as necessary.
The sample finance transformation business requirements matrix includes several categories and subcategories and focuses on business needs which in turn can be realized by finance and accounting software platforms. Of course, the categories may not match the vendor categorization and segmentation of their functionality.
What does it not include?
The Accounting and Finance Business Requirements Matrix does not comprise of Technical, Architecture and Infrastructure Requirements. It is also not a full-fledged BRD (Business Requirements Document.)
The deliverable does not include typical Vendor RFP questions such as Vendor profile, pricing, deployment, and licensing information, etc. (CIOPages.com offers a Vendor RFP template as a separate deliverable.)
What are the Finance Transformation Business Requirements?
Today, the Accounting and Finance (or the Record to Report) function has become a strategic lever for many companies.  Reinventing Finance function and bringing it to the digital era has been the focus of many of the Finance transformation programs. Depending on the expansiveness of the Finance transformation, it may span a change in operating model, re-engineering the underlying processes, restructuring of the Accounting and Finance services, and enhancing the Finance stakeholder experience.  More often than not, the accounting and finance transformation includes re-platforming the Finance and Accounting Systems.
The traditional approach to documenting Finance business and functional requirements spans one or more of the following:
Business analysts interviewing Accounting and Finance subject matter experts to gather business needs.
Reverse engineer key business requirements for finance transformation from existing accounting and finance software systems.
Conduct vendor evaluations to learn about state of the art in Finance and Accounting systems
Analyze the voice of the customer (internal Finance stakeholders) and glean insights into the changes required and draft them into business requirements.
Instead of weeks and months of efforts, the CIOPages.com sample requirements (or strawman requirements) for finance transformation can help jumpstart the requirements endeavor and accelerate time to value.  The CIOPages.com finance business requirements matrix allows finance transformation project teams to customize the requirements to the needs of the enterprise rapidly.
The deliverable comprises 250 business requirements spanning all critical functional areas of Finance and Accounting.
Each of the requirements is in the form of assertive business statements indicating desired functionality.
If you need to translate them into Agile Stories in the well-known template: "As a _____________, I want __________________, so that ____________", it is easy to do reframe the requirements. Please do let us know if you need any help in transforming the traditional requirements into an agile format.
Caveats:
As the Accounting and Finance Transformation Business Requirements is a digital product, there are absolutely NO Returns.
Depending on your industry, the type of finance and accounting functions, processes and practices you follow, and the scope of your transformation, some of the requirements may not be relevant to you.
If you are a consultant or a consulting company, there is a different pricing, license, and terms.
Sold on an as-is basis and with no warranties
This sale does not include implementation help or support. If you need professional services assistance, please contact us.
Please review our standard terms of service.
Need Consulting or Advisory Services?
Are these really "Business Requirements"?
Indeed these are REAL business requirements. Top notch management consultants with domain experience conceptualized and created the operational needs of a finance transformation.  The functional requirements encompass all key areas of Finance, Accounting, and related functions.
How should we use the Finance and Accounting Transformation Business Requirements deliverable?
More often than not, in every large (and sometimes medium-sized) enterprise, a cross-functional team of business/technology/architecture teams spend countless hours in conference rooms trying to whiteboard and write business requirements from scratch. The more time they devote to common and standard specifications, the more likely they will miss out on something unique and relevant to the firm. Instead, using CIOPages Finance Business Requirements, you can focus on what's different and unique about your situation. That is the deliverable enables you to spend 90% of your time on the 10% of the requirements that matter. And only 10% of your time on the 90% of requirements that are table stakes.
But, our Company is Unique – will it fit us?
Of course, you are unique but not as unique as a unicorn!
We understand and acknowledge each company is slightly different regarding some capabilities as well as how they work. However, while there may be divergence at the edges, there is a lot of convergence at the core between most firms. The differences may be in the relative emphasis of a few of the critical processes and absence or presence of specific requirements and workflows based on your unique needs.
Last but not least, we don't expect our Finance and Accounting Business Requirements (or any other matrix/template, in fact) to fit you 100%. We hope you to take this set of requirements as a straw model and use it as a springboard to achieve the level customization and specificity you desire.
If you need professional services to help to tailor the requirements to your needs and capture your firm's unique essence, we can help. Please contact CIOPages.com Advisory Services for details.
But, we have a Finance Business Requirements Matrix already?
Well, in that case, either you can go with it, or if you need to validate and cross-reference, you will still find our business requirements matrix valuable. After all, the price is less than the one-hour of time spent on the combined brainpower assembled in the room.
What is my ROI?
The Value of Time Spent:
A Product Manager
Business Analysts
Finance and Accounting Functional Experts – 2 or 3 to represent the broad spectrum of areas.
You can multiply the average hourly cost of the team and the hours spent, and you'll get the picture.
Opportunity Cost:
In addition to the time spent and the associated costs of drafting routine requirements, you also have to consider the opportunity cost.
By quickly adding/deleting/modifying the base set of requirements, it will allow you the luxury of spending the balance of your quality time in conceptualizing and crafting the unique and specific Business Requirements, which capture the essence of your company and its Finance and Accounting practices, principles, and perspectives.
Of course, let's not forget the "Day Job" each of the SMEs (subject matter experts) could be doing.
Acceleration:
Instead of spending countless hours stretched across weeks or months, you can have a baseline of requirements in a couple of sittings. That helps you expedite and accelerate the transformation.
Licensing Options:
We keep the licensing options – clean and straightforward.
Individual License: Where we offer an individual license, you can use the deliverable for personal use. You pay only once for using the deliverable forever. You are entitled any new updates within 12 months.
Enterprise License: If you are representing a company, irrespective of size, and intend to use the deliverables as a part of your enterprise transformation, the enterprise license is applicable in your situation. You pay only once for using the deliverable forever. You are entitled any new updates within 12 months.
Consultancy License: A consulting or professional services or IT services company that intends to use the deliverables for their client work need to pay the consultancy license fee. You pay only once for using the deliverable forever. You are entitled any new updates within 12 months.
Product FAQs:
Can I see a Sample Deliverable?
We are sorry, but we cannot send or show sample deliverables. There are two reasons: A) The deliverables are our intellectual property, and we cannot share the same. B) While you may be a genuine buyer, our experience in the past has not been great with too many browsers and not many buyers. We believe the depth of the information in the product description and the snippets we provide are sufficient to understand the scope and quality of our products.
When can I access my deliverables?
We process each transaction manually and hence, processing a deliverable may take anywhere from a few minutes to up to a day. The reason is to ensure appropriate licensing and also validating the deliverables.
Where can I access my deliverables?
Your best bet is to log in to the portal and download the products from the included links. The links do not expire.
Are there any restrictions on Downloads?
Yes. You can only download the products three times. We believe that is sufficient for any genuine usage situation. Of course, once you download, you can save electronic copies to your computer or a cloud drive.
Can I share or sell the deliverables with anyone?
You can share the deliverables within a company for proper use. You cannot share the deliverables outside your company. Selling or giving away free is prohibited, as well.
Can we talk to you on the phone?
Not generally. Compared to our professional services fee, the price of our products is a fraction of what we charge for custom work. Hence, our business model does not support pre-sales support.
Do you offer orientation or support to understand and use your deliverables?
Yes, for a separate fee. You can hire our consultants for remote help and in some cases for onsite assistance. Please Contact Us.