Finance Transformation Training Plan
$49.00 – $149.00
Licensing Options
Product FAQs
Product Description
Accounting and Finance Transformation Training Plan: Accounting and Finance Transformation Training Plan is a major transformation endeavor in any large enterprise with consequential Training and Change Management needs. This CIOPages.com Training plan is a sample/proforma training plan is customizable to your company's needs during a Finance and Accounting implementation.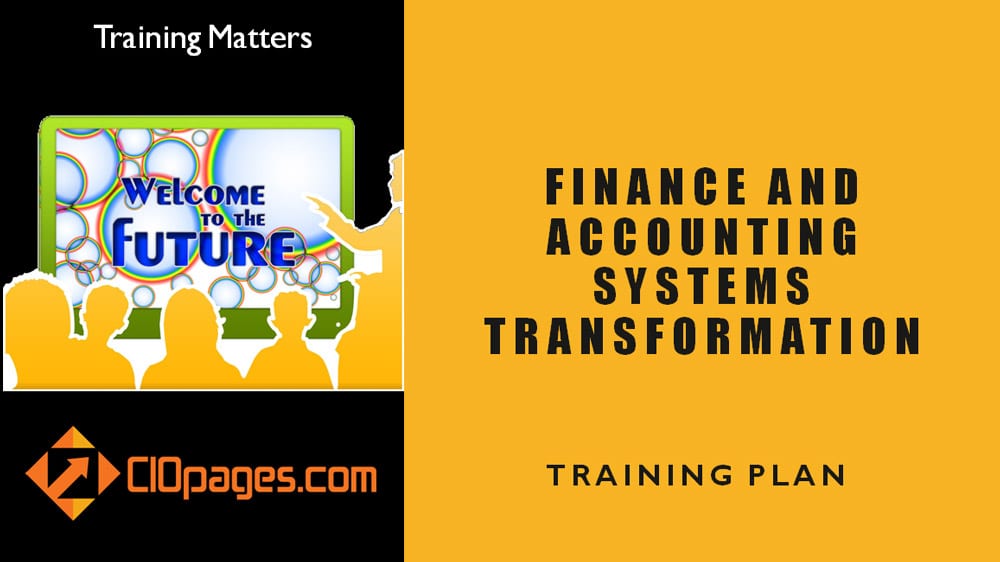 What do I get?
Finance and Accounting Transformation Training Plan is a PowerPoint presentation with 10 pages of information rich content
What does the deliverable cover?
Topics included in Finance and Accounting Transformation Training Plan:

Finance and Accounting Transformation Training goals and objectives
The Finance and Accounting Transformation – Training philosophy
The key audiences and stakeholders for Finance and Accounting Training
Training tools and techniques
Role-based Curriculum topics
A notional calendar
Caveats:
As the Finance and Accounting Transformation Training Plan is a digital product, there are absolutely NO Returns.
Depending on your industry, the type of solution you are implementing, and the associated training needs, some or all of the content may not be relevant to you.
If you are a consultant or a consulting company, there is a different pricing, license, and terms.
Sold on an as-is basis and no warranties
This sale does not include implementation help or support. If you need professional services assistance, please contact us.
Please review our standard terms of service
Why buy Accounting and Finance Transformation Training Plan?
A good question. The answer is to a) Get ideas b) Save time and c) Not be dependent on an expensive consulting firm or a vendor.
While planning for a major systems transformation, training is the last thing on the Transformation Project team's minds and is an afterthought. The L&D (Learning and Development) professionals can coordinate and marshal the training programs, but they are not necessarily the subject matter experts. The CIOPages Finance and Accounting Transformation Training Plan can be used as a starting point or a springboard to developing your own training plan.
But, our Company is Unique – will it fit us?
Of course, you are unique, but not as unique as a unicorn!
We understand and acknowledge each company is slightly different, but in the end, all major horizontal functional area systems are built on industry standards, and of course, these workflows can be customized. Similarly, if 80% of the content is useful, you'd benefit quite a bit.
What is my ROI?
Consider the following four factors:
The Value of Time Spent:
The time it will take your project team to build a training plan from scratch
Opportunity Cost:
Imagine if all the team members who are time constrained could do if they had an extra few hours?
Time to Value:
Instead of starting from scratch, a well-conceived train plan can help you to finish the task quickly.
Focus on 20% that matters:
We all can stipulate to the 80-20 rule. Imagine if you can take say 50-80% of the base content and are able to customize the rest! That quality time can produce a lot of innovative ideas and opportunities that you might miss if you are focused on the entire enchilada.
And in terms of cost, it is far less than what it will take to buy coffee and cookies for the project team to brainstorm training topics.
Licensing Options:
We keep the licensing options – clean and straightforward.
Individual License: Where we offer an individual license, you can use the deliverable for personal use. You pay only once for using the deliverable forever. You are entitled any new updates within 12 months.
Enterprise License: If you are representing a company, irrespective of size, and intend to use the deliverables as a part of your enterprise transformation, the enterprise license is applicable in your situation. You pay only once for using the deliverable forever. You are entitled any new updates within 12 months.
Consultancy License: A consulting or professional services or IT services company that intends to use the deliverables for their client work need to pay the consultancy license fee. You pay only once for using the deliverable forever. You are entitled any new updates within 12 months.
Product FAQs:
Can I see a Sample Deliverable?
We are sorry, but we cannot send or show sample deliverables. There are two reasons: A) The deliverables are our intellectual property, and we cannot share the same. B) While you may be a genuine buyer, our experience in the past has not been great with too many browsers and not many buyers. We believe the depth of the information in the product description and the snippets we provide are sufficient to understand the scope and quality of our products.
When can I access my deliverables?
We process each transaction manually and hence, processing a deliverable may take anywhere from a few minutes to up to a day. The reason is to ensure appropriate licensing and also validating the deliverables.
Where can I access my deliverables?
Your best bet is to log in to the portal and download the products from the included links. The links do not expire.
Are there any restrictions on Downloads?
Yes. You can only download the products three times. We believe that is sufficient for any genuine usage situation. Of course, once you download, you can save electronic copies to your computer or a cloud drive.
Can I share or sell the deliverables with anyone?
You can share the deliverables within a company for proper use. You cannot share the deliverables outside your company. Selling or giving away free is prohibited, as well.
Can we talk to you on the phone?
Not generally. Compared to our professional services fee, the price of our products is a fraction of what we charge for custom work. Hence, our business model does not support pre-sales support.
Do you offer orientation or support to understand and use your deliverables?
Yes, for a separate fee. You can hire our consultants for remote help and in some cases for onsite assistance. Please Contact Us.