Supply Chain Transformation Project RACI Matrix
$25.00 – $75.00
Licensing Options
Product FAQs
Product Description
Supply Chain Transformation Project RACI Matrix is a handy list of tasks/activities, which you can customize and assign to your SCM project team. Is your firm embarking on a Supply Chain Systems transformation project? If so, do you know who is doing what? Is it clear who's neck is on the line for which task? And who needs to be consulted and informed? No wonder you need a RACI matrix (Responsible, Accountable, Supportive, Consulted, Informed)! The CIO Pages Supply Chain Transformation Project RACI Matrix allows you to keep tabs on key milestones and outcomes along with relevant personnel and their roles in an implementation project.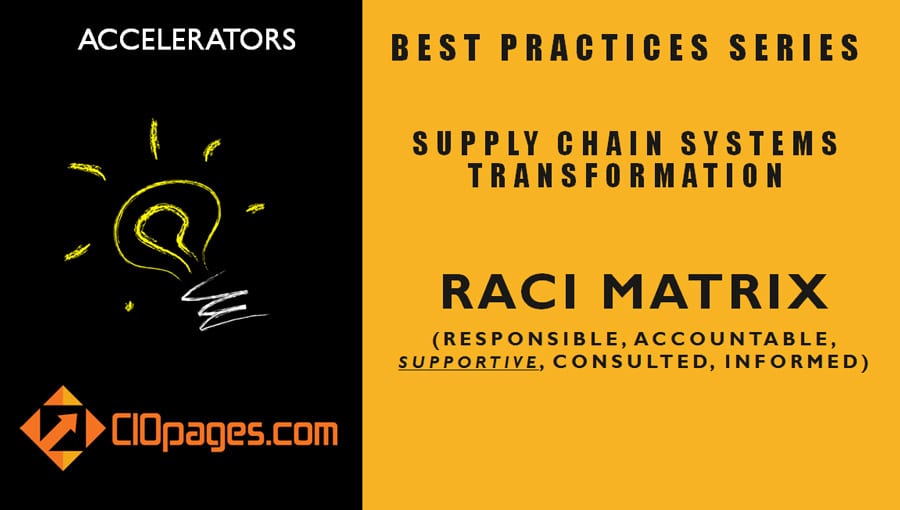 What do I get?
Supply Chain Transformation Project RACI Matrix is an Excel spreadsheet with key activities and column to assign roles.
The Supply Chain Transformation Project RACI Matrix deliverable consists of about 50 key activities and milestones involved in a typical large scale Supply Chain Systems implementation along with columns to assign the team to RACI tags.
What is not included?
The deliverable does not include all the everyday project management minutiae, except key milestones. However, you are able to add/modify any of the items.
Caveats:
As the Supply Chain Transformation Project RACI Matrix is a digital product, there are absolutely NO Returns.
Depending on your industry, the type of solution you are implementing, the scope of implementation, and program structure, some or all of the content may or may not be relevant to you.
If you are a consultant or a consulting company, there is a different pricing, license, and terms.
Sold on an as-is basis and with no warranties
This sale does not include implementation help or support. If you need professional services assistance, please contact us.
Please review our standard terms of service
Why do I need a Supply Chain Transformation Project RACI Matrix?
Keeping tabs on a large and complex Supply Chain Systems implementation and ensuring things are getting done is not an easy task. RACI is an integral part of supply chain project management. A RACI matrix helps the project team assign, monitor and manage milestones/activities to the project team. Knowing who is doing what and in what capacity will help a great deal.
But, our Company is Unique – will it fit us?
Of course, you are unique but not as unique as a unicorn!
We understand and acknowledge each company is slightly different, but in the end, major transformational programs are similar in structure, challenges, risks and best practices. Consequently, the content here will be more or less relevant to most large and medium firms. And of course, while this deliverable may not cover all that your firm needs, even a 50-75% relevance will help reduce the time spent on conceptualizing the items.
What is my ROI?
Consider the following four factors:
Time Involved:
The time it will take your project team to build a Tasks and Activities list from scratch
Opportunity Cost:
Imagine if all the team members who are time constrained could do if they had an extra few hours?
Time to Value:
Instead of starting from scratch, a well conceived initial list of Tasks and Activities, which can be modified in one or two sittings, can help accelerate your timelines.
Focus on 20% that matters:
If we stipulate to the 80-20 rule, this deliverable will help you avoid spending 80% time on obvious features and instead flip the percentage of time needed to identify and document differentiators and features unique to your situation.
And in terms of cost, it is far less than what it will take to buy coffee and cookies for the project team to brainstorm the task list.
Licensing Options:
We keep the licensing options – clean and straightforward.
Individual License: Where we offer an individual license, you can use the deliverable for personal use. You pay only once for using the deliverable forever. You are entitled any new updates within 12 months.
Enterprise License: If you are representing a company, irrespective of size, and intend to use the deliverables as a part of your enterprise transformation, the enterprise license is applicable in your situation. You pay only once for using the deliverable forever. You are entitled any new updates within 12 months.
Consultancy License: A consulting or professional services or IT services company that intends to use the deliverables for their client work need to pay the consultancy license fee. You pay only once for using the deliverable forever. You are entitled any new updates within 12 months.
Product FAQs:
Can I see a Sample Deliverable?
We are sorry, but we cannot send or show sample deliverables. There are two reasons: A) The deliverables are our intellectual property, and we cannot share the same. B) While you may be a genuine buyer, our experience in the past has not been great with too many browsers and not many buyers. We believe the depth of the information in the product description and the snippets we provide are sufficient to understand the scope and quality of our products.
When can I access my deliverables?
We process each transaction manually and hence, processing a deliverable may take anywhere from a few minutes to up to a day. The reason is to ensure appropriate licensing and also validating the deliverables.
Where can I access my deliverables?
Your best bet is to log in to the portal and download the products from the included links. The links do not expire.
Are there any restrictions on Downloads?
Yes. You can only download the products three times. We believe that is sufficient for any genuine usage situation. Of course, once you download, you can save electronic copies to your computer or a cloud drive.
Can I share or sell the deliverables with anyone?
You can share the deliverables within a company for proper use. You cannot share the deliverables outside your company. Selling or giving away free is prohibited, as well.
Can we talk to you on the phone?
Not generally. Compared to our professional services fee, the price of our products is a fraction of what we charge for custom work. Hence, our business model does not support pre-sales support.
Do you offer orientation or support to understand and use your deliverables?
Yes, for a separate fee. You can hire our consultants for remote help and in some cases for onsite assistance. Please Contact Us.