Emerging Digital Technologies Assessment
$25 – $75
Licensing Options
Product FAQs
Product Description
What emerging digital technologies are relevant and important to your firm and how do you assess the strategic importance and prioritization?
The plethora of emerging digital technologies and various levels of evolution and maturity makes it difficult to understand the potential impact and relevance to your enterprise.
Do you know what is CoDA (Context Delivery Architecture)? Alternatively, Mesh Networks? Alternatively, Holographic Data Storage? Moreover, do you know what use cases and if at all you should consider any of these emerging digital technologies as a part of your enterprise technology repertoire.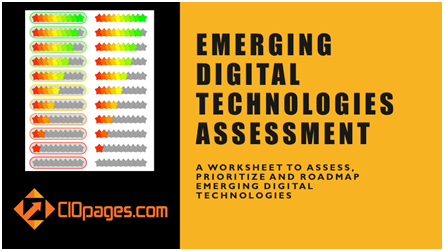 As Gartner famously terms the Hype Cycle, there are always some technologies that pan out and some who do not.
The reason to get CIOPages.com emerging digital technologies assessment is to help you with an objective evaluation and then plan a roadmap of what solutions, how they will be used, and when is the right time. Some technologies may just warrant some experiments, whereas some may require deeper commitment.
What is the Emerging Digital Technologies Assessment deliverable?
The deliverable is a spreadsheet with a list of essential digital technologies – big and small, nascent and established. Then the worksheets will provide parameters to evaluate these emerging digital technologies relevance to your firm, their maturity, and the path forward.
error:
Content is protected !!