Finance Capabilities Model
$699 – $1,999
Licensing Options
Product FAQs
Product Description
Finance Capabilities Model: The CIOPages.com Finance capabilities model is complete decomposition of finance and accounting capabilities. The Record to Report value stream is a critical component of any modern enterprise. The Finance Capability Model helps in getting a holistic perspective of all accounting and finance functions. The finance capabilities list will assist in evaluating the maturity of the accounting and finance function, gauging the current strengths and weaknesses to craft a capability evolution roadmap. Accounting and finance services are no longer just a historian recording ledger transactions. Finance and Accounting departments have emerged as a vanguard of harnessing the resources of an enterprise to elevate organizational performance. A structurally sound and stable finance business capability model helps make sense of advanced accounting and finance functions.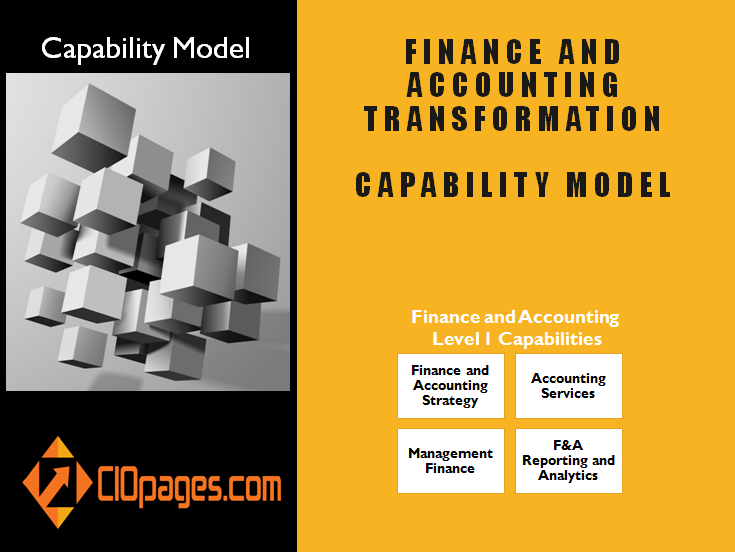 What does the Finance Capabilities Model include?
The Accounting and Finance capabilities model is a hierarchical decomposition of about ~110 business capabilities spanning all Finance and Accounting functions.
Formats Available:
A Spreadsheet with business capabilities and worksheets to conduct an assessment and document associations
Presentation slides with a visual nested list.
Word document in a multilevel list format
Why do we need a Finance Capabilities Model?
An Accounting and Finance Capabilities Model helps an enterprise in bridging the gap between business and IT. The model facilitates an understanding of what the finance and accounting function does and can do. The capabilities list for the record to report function aligns IT development efforts to finance and accounting priorities, which helps evolve and enhance the finance function.  For digital finance transformation, a capabilities framework is an essential component.
CIOPages Finance Capabilities model captures a detailed view and a nuanced perspective of what Finance and Accounting function do. It includes essential features as well as emerging and value-add functions/capabilities.
The finance reference model will help provide a jumpstart to envision a future state, conduct a gap analysis, identify capabilities which are needed/and must be improved, and help focus efforts on capabilities that matter!
What's the Finance Capabilities Model?
The finance capability framework is decomposed to a minimum of Level 2 across the spectrum of Finance and Accounting functional capabilities and, many a time to level 3 and at times to level 4, depending on the granularity and modularity required.
The capability model, which spans the Record to Report value stream is structurally sound, internally coherent and maintains principles of MECE (mutually exclusive and collectively exhaustive), for the most part.
Finance Business Capability Map – Level 1 Capabilities
| | |
| --- | --- |
| Finance and Accounting Strategy | Accounting Services |
| Management Finance | F&A Reporting and Analytics |
Example decomposition of a sliver of the Finance Capabilities Model
Level 1 Capabilities
Finance and Accounting Strategy
Accounting Services
Management Finance
F&A Reporting and Analytics
Level 2 Capabilities
General Accounting
Fixed Asset Management
Accounts Receivables
Accounts Payable
Level 3 Capabilities
Accounts Payable Planning
Procurement Management
Level 4 Capabilities
Vendor Profile Management
Vendor Reporting
Vendor Reporting
Vendor Inquiry Management
What else do you get regarding business architecture and capability modeling – all for free?
FREE BONUS Deliverables
General Intro to Capability Modeling
Business Architecture Framework
Business Capability Profile Template
Capability Assessment Template - Criteria and Notes
Role and Responsibilities of Business Architecture Leader
Caveats:
The CIOPages.com Finance capabilities model is a digital product and hence absolutely no returns or refunds.
A generic Finance capability model may or may not fit your needs, or the percentage of relevance will vary widely.
Sold on an as-is basis and without any implied or explicit warranties
Consultants and consulting firms who want to use it for their clients have a different pricing model.
The sale is for the model only and does not include customization or implementation help.
Please review our standard terms of service.
Need Customization Help?
What are Business Capabilities?
Business Capabilities describe "What" business does. Business capabilities act as the foundational building blocks in business architecture as they are the reliable components and stable entities to model a business.  There is a lot of information on capabilities at Capstera.
What is the value of a Finance Capability Model?
A well-structured finance business capabilities model aligns business and technology with a set of stable entities.
It provides a universal language that bridges the traditional gap between business and IT teams
A granular finance capability matrix (not too high level but well below level 3 and 4) allows for mapping to technology components to understand the functional sufficiency and footprint of applications to meet business needs.
Requirements anchored to a finance capability help companies focus on capability evolution, not siloed project execution
Using financial capabilities as Lego blocks, business owners, and product managers can communicate their needs better to allow for optimal technology enablement.
A detailed and well-structured finance capability matrix helps in vendor evaluation and selection.
A finance capability matrix helps you identify conflicts, overlaps, and redundancies and zero in on the weak areas to develop a roadmap to evolve the capabilities.
Will a generic Finance Capability List fit our unique needs?
The goal of CIOPages.com business capability maps is to meet or beat a threshold of 75-80% relevance. There is always that 20-25% that may need to be modified and customized to capture the unique essence of your enterprise. Also, having a pre-built finance capabilities reference model helps in a) not missing out on the core and distinct business capabilities and b) spend 80% of your time on the 20% of the capabilities that make you who you are!
But I've seen this entire finance capability framework depicted as ONE BOX. Why so many finance capabilities?
The problem with some of the mickey-mouse finance capability maps is that they are too high level and are nothing more than a few boxes and arrows that can be used as Wall Art.
For a capability to link strategy to execution, and to bring about functional enablement at a feature/function level, a well-structured and deeply-decomposed business capability map is essential.
Can you help us customize the finance capability model to our enterprise needs?
We are glad you asked! Yes, of course. Our domain and functional experts can contribute to take these straw capability maps and customize to your needs.
With a full-fledged finance capabilities reference model as an accelerator, the work will be fast, efficient, and useful.
Contact us for Advisory/Consulting Services.
Why should I pay?
The domain knowledge and intellect that went into constructing the finance capability framework is very high. The cost is less than 2-hours of time of a low-priced consultant. Or perhaps the price of pizza lunch for the team to brainstorm and whiteboard the finance and accounting capabilities.
Consider the ROI: A) The hours of work you will save instead of trying to build something from scratch. B) The time saved due to the straw model covering 75-80% of your needs. And c) the value of focusing on what makes you unique rather than work on developing the entire list of finance capabilities.
Licensing Options:
We keep the licensing options – clean and straightforward.
Individual License: Where we offer an individual license, you can use the deliverable for personal use. You pay only once for using the deliverable forever. You are entitled any new updates within 12 months.
Enterprise License: If you are representing a company, irrespective of size, and intend to use the deliverables as a part of your enterprise transformation, the enterprise license is applicable in your situation. You pay only once for using the deliverable forever. You are entitled any new updates within 12 months.
Consultancy License: A consulting or professional services or IT services company that intends to use the deliverables for their client work need to pay the consultancy license fee. You pay only once for using the deliverable forever. You are entitled any new updates within 12 months.
Product FAQs:
Can I see a Sample Deliverable?
We are sorry, but we cannot send or show sample deliverables. There are two reasons: A) The deliverables are our intellectual property, and we cannot share the same. B) While you may be a genuine buyer, our experience in the past has not been great with too many browsers and not many buyers. We believe the depth of the information in the product description and the snippets we provide are sufficient to understand the scope and quality of our products.
When can I access my deliverables?
We process each transaction manually and hence, processing a deliverable may take anywhere from a few minutes to up to a day. The reason is to ensure appropriate licensing and also validating the deliverables.
Where can I access my deliverables?
Your best bet is to log in to the portal and download the products from the included links. The links do not expire.
Are there any restrictions on Downloads?
Yes. You can only download the products three times. We believe that is sufficient for any genuine usage situation. Of course, once you download, you can save electronic copies to your computer or a cloud drive.
Can I share or sell the deliverables with anyone?
You can share the deliverables within a company for proper use. You cannot share the deliverables outside your company. Selling or giving away free is prohibited, as well.
Can we talk to you on the phone?
Not generally. Compared to our professional services fee, the price of our products is a fraction of what we charge for custom work. Hence, our business model does not support pre-sales support.
Do you offer orientation or support to understand and use your deliverables?
Yes, for a separate fee. You can hire our consultants for remote help and in some cases for onsite assistance. Please Contact Us.
error:
Content is protected !!