Surviving the Digital Revolution
By: Ciopages Staff Writer
Updated on: Feb 25, 2023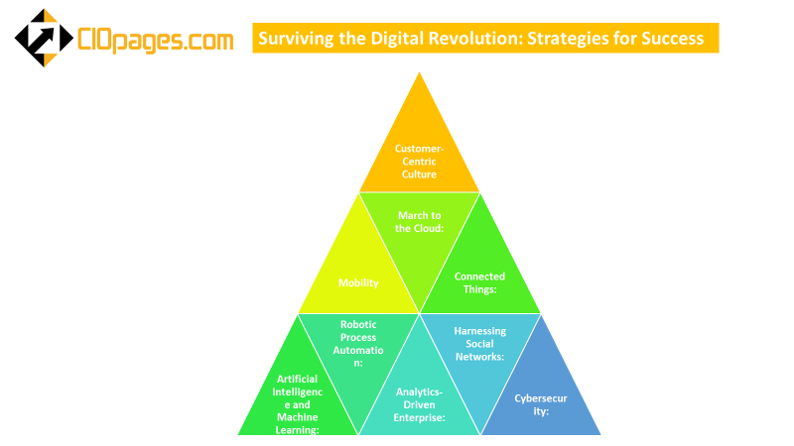 Surviving the digital revolution and thriving in this digital age is not for the faint of heart.  Surviving the digital revolution and transformation is not just about shiny new technologies, which of course are important and a means to an end, but it is about strategic intent, operational execution, culture and mindset, and rethinking the product development and service delivery model.
Surviving the Digital Revolution – Key Strategies:
Here are nine things that will help a company in surviving the digital revolution and enterprise transformation and emerge a winner.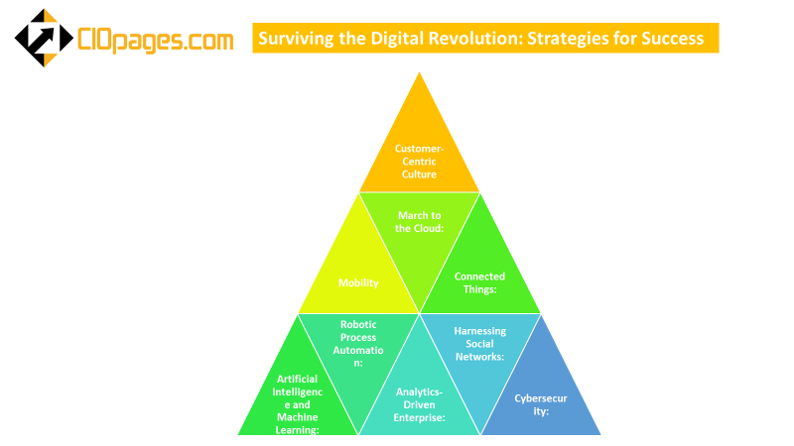 Customer-Centric Culture:
The digital revolution is more about people and culture than it is about shiny new technologies.  Customer-centricity is not about slogans and posters in the cafeteria walls.  For example, the whole culture of Zappos (which has since been acquired by Amazon) is centered around customer happiness. So, is the culture of brick and mortar firm with sprawling theme parks – Disney.   That cultural underpinning enhanced by digital technologies will result in game-changing customer experience.  And this customer-first attitude should permeate the channels and in everything the company does – how it conceives products and services to how it delivers such products and services.
Mobility:
Customers, Employees, Suppliers, and all stakeholders are all using mobile devices, all the time. Whether mobility has engendered concept of untethering, it has not stopped everyone from being attached to their mobile devices. No wonder, the analysts estimate the growth in mobile devices in use in 2019 at over 5 billion.
Irrespective of whether your company is primarily delivering its service using mobile apps or a traditional brick and mortar operation, the concept of mobility and the mobile-first strategy has tremendous implications.
Of course, it is evident that a company like Uber does not have a chance without the touch-enabled mobile device.  But for a brick and mortar retailer, it could mean knowing the profile of the user through the mobile identity and engaging them with beacons and other near-field communications techniques.
March to the Cloud:
The cloud is much more than a server someplace else.  Embracing the cloud and harnessing the power allows companies to scale at will, leverage latest technology innovations, and license software platforms designed for the digital age.  Whether it is leveraging a sales and marketing cloud or gleaning insights from vast streams of data or mashing up distinct components into cohesive services, the cloud is the place to be.  Cloud vendors such as Amazon AWS, Microsoft Azure, Google Cloud and others are bringing path-breaking innovations which allow all companies, big and small, use the latest and the greatest without reinventing the wheel.
Connected Things:
The internet of things is a revolution that corporations are yet to take full advantage of. Imagine the data that a company gather, collate, analyze, and harness from the billions of devices. For example, a pharmacy would be able to monitor the level of medicine and fill the prescription. How about a grocery delivery service able to deliver milk to the home. How about a restaurant providing a coupon to a previous customer who is out and about nearby.
But it goes more than simple consumer services.  The industrial use cases can be even more powerful.
Artificial Intelligence and Machine Learning:
Natural language understanding, intelligent agents, chatbots, self-learning algorithms – the potential of AI is unfathomable.  The quantum and cognitive computing revolution is just starting.  Companies are using AI to analyze unstructured data, identifying patterns, intelligent agents enhancing the quality of interactions, and messengers and chatbots engaging customers with context and deep data underpinnings.
Robotic Process Automation:
Robotic process automation is more than funny looking robots running around.  It is about automating routine chores where human value-add is limited. Robotic process automation can handle all usual processes which are structured, repetitive, and time-bound.  The advantage is lower costs, higher precision, and the ability for human beings to be engaged in more productive and value-adding tasks.
Analytics-Driven Enterprise:
In the digital age, corporations are relying on data, not just gut feel and instinct. The ability to quickly analyze vast amounts of data and decipher patterns and summarize into actionable intelligence is shifting the paradigm.  For example, a fashion retailer can analyze the data and read the tea leaves of customer trends and make a decision on the merchandise for the next season. Or, a company making a Capex decision based on multi-factor analysis based on economic growth, demand and supply trends, and signals from the allied areas.
Harnessing Social Networks:
Customers, young and old, have embraced the social media revolution. However, beyond dipping the toes with advertising and some native content, companies have not fully understood or leveraged the power of the social media.  Companies need to treat this sticky channel for communication, engagement, and commerce and come up with creative ways to make themselves an integral part of the social media ecosystem.
Cybersecurity:
Last but not the least, trust and assurance is very important. If NSA (National Security Agency) can be hacked, no corporation is immune. Companies like Disney, Equifax, Uber have all experienced hacks and thefts.  While there is no simple or single answer, Cybersecurity should be integral to everything companies do in the digital realm.  Most grave cybersecurity mishaps occur due to simple mistakes.  Eliminating social engineering/phishing and sound security policies are a good start.  Then, of course, the rest is an arms race to keep ahead of the malcontents.
As we said earlier, surviving the digital revolution and transformation is not easy. But the cost of sitting idle is a death knell. So companies should identify their digital capabilities and craft their digital transformation roadmaps.