Enterprise Business Capabilities Model
$2,499.00 – $5,999.00
Licensing Options
Product FAQs
Product Description
Enterprise Business Capabilities Model: The CIOPages enterprise business capabilities model is a customizable and comprehensive decomposition of what business does and can do. The enterprise capabilities are a logical and intuitive encapsulation of all business functions with over 1200 elemental building blocks – the business capabilities. The enterprise business capabilities model is an essential blueprint with a structurally sound and internally coherent business capabilities – a first citizen of the enterprise business architecture. A corporate or company-wide business capabilities map is a critical component in business architecture and assists in enterprise transformation planning.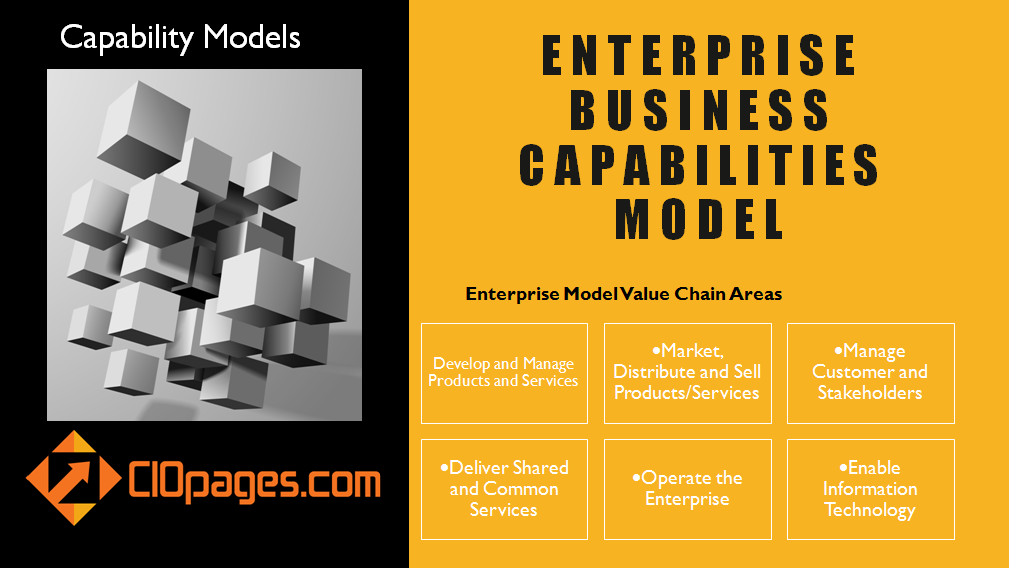 Why does an enterprise need a business capabilities model?
Today, globalization, demographic changes, and digitalization are making it an imperative for every company to become a technology business. In large companies, there is a gap between what business wants and what IT delivers. The agility and skill required to keep pace with innovation, withstand the competition from upstarts and established firms, it is imperative for companies the world over to streamline and align their business, and IT functions.
A company capability framework is a sound starting point for such transformational endeavors with a stable and intuitive view of the enterprise functions. The typical company functions span the value chain and include corporate capabilities, functional capabilities, and industry/sector specific capabilities – all of which are an abstraction of the underlying flow and function. The business capabilities model includes all the top strategic, operational, and administrative services.
The enterprise business capabilities matrix is a comprehensive, customizable, and coherent deliverable that helps business architects, enterprise architects, CIOs, and business and IT leaders, in their quest for business and technology optimization.
What is a Business Capabilities Model?
Every business is an agglomeration of a set of capabilities. At the highest level, a value chain captures the primary and supporting capabilities.  However, that strategic view needs more granularity, depth, and detail.
For example, most pharmaceutical companies have capabilities such as Research and Development, Strategy and Management, Product Development, Distribution, Marketing, and Sales.  However, only when goes deeper into the capability model does one get to operational level factors and IT enablement details.
CIOPages comprehensive and customizable enterprise business capabilities model is based on a generic, large, complex and geographically diverse company and it encompasses all aspects of the value chain. The sample business capability map has over 1200 capabilities often decomposed to level 3, 4 and 5 of depth and granularity.
The deliverable comprises over 1200 business capabilities and includes the following formats::
An Excel spreadsheet with the list of company capabilities. The spreadsheet also provides addition worksheets with templates for conducting a capability assessment as well as a model to map core associations.
A PowerPoint format with the top three levels of the capability matrix presented in a nested visualization.
A Word document with all company capabilities in a multilevel list format.
BONUS: An introduction to business capabilities and how to use them.
What is the Value of the Business Capabilities Model?
An enterprise capabilities framework is a fundamental and foundational entity in the business architecture continuum. The CIOPages Enterprise Business capabilities reference model encapsulates the essence of all business functions with a detailed, multi-level capabilities list.
There are several benefits from well-structured business capabilities map, including, among others:
Foster an alignment between business and IT using capabilities as a common language.
Capabilities are a structurally sound and internally coherent abstraction of business functions.
A capability-based roadmap eliminates redundancy and replication and focuses on capability evolution
Juxtaposing capabilities and systems/applications provides a footprint analysis and can lead to better application portfolio rationalization decisions.
Example decomposition of a sliver of the Enterprise Capabilities Model:
The sample business capabilities list starts out listing the highest level value chain items:
Develop and Manage Products and Services
Market, Distribute and Sell Products/Services
Manage Customer and Stakeholders
Deliver Shared and Common Services
Operate the Enterprise
Enable Information Technology
Next, the company capabilities framework takes each of the areas and decomposes to granular and elemental building blocks across the enterprise value chain.
Enterprise Capability Model: A sliver of the HR Capabilities integral to the overall model. (Beyond HR, there are several other functional areas as well as corporate capabilities.
Enterprise Capabilities Model: A sliver of the HR Capabilities integral to the overall model. (Beyond HR, there are several other functional areas as well as corporate capabilities.)
Level 1 Capabilities
HR Strategy and Planning
Management
Workforce Management
Compensation and Benefits
Recruitment and Hiring
Talent Management
Learning and Development
People Relationship Management
HR Analytics and Reporting
Level 2 Capabilities
Recruitment Planning
Recruitment Management
Employee Onboarding
Level 3 Capabilities
Requisition Management
Sourcing
Recruiting
Level 4 Capabilities
Prospect Engagement
Applicant Evaluation
Pre-Qualification and Screening
Interviewing and Selection Management
Employment Offer
Another example of a sliver of Finance and Accounting Capabilities.
Level 1 Capabilities
Finance and Accounting strategy
Accounting Services
Management Finance
F&A Reporting and Analytics
Level 2 Capabilities
General Accounting
Fixed Asset Management
Account Receivables
Account Payable
Level 3 Capabilities
Accounts Payable Planning
Payee Management
Level 4 Capabilities
Payee Profile Management
Payee Reporting
Payee Inquiry Management
Payee Dispute Resolution
The business capabilities map is a decomposition of up to level 3, 4, and 5 as necessary.
Created by business architects and domain experts, the enterprise capabilities reference model is detailed, in-depth, structurally stable, has internal coherence, and conforms to the construct of MECE (mutually exclusive and collectively exhaustive).
Additional Bonus Deliverables offered FREE:
FREE BONUS Deliverables
General Intro to Capability Modeling
Business Architecture Framework
Business Capability Profile Template
Capability Assessment Template - Criteria and Notes
Role and Responsibilities of Business Architecture Leader
Fine Print:
The CIOPages.com Enterprise business capabilities model is a digital product and hence absolutely no returns or refunds.
A generic capabilities model may or may not fit your needs, or the percentage of relevance will vary widely.
Sold on an as-is basis and without any implied or explicit warranties
Consultants and consulting firms who want to use it for their clients have a different pricing model.
The sale is for the model only and does not include customization or implementation help.
Please review our standard terms of service.
Need Customization Help?
What are Business Capabilities?
Business Capabilities describe "What" business does. Business capabilities act as the foundational building blocks in business architecture as they are the solid components and stable entities to model a company. There is a lot of information on capabilities at Capstera.
What is the value of a Business Capabilities Model?
A well-structured business capability model aligns business and technology.
A company-wide capabilities matrix provides a common language that bridges the traditional gap between business and IT teams.
A granular capability model (not too high level) allows for mapping to technology components to understand the functional sufficiency and footprint of applications to meet business needs.
A company-wide capabilities assessment with regards to strategic importance, underlying process maturity, adequacy of resourcing, and level of technology enablement paints a vivid picture of the state of the enterprise.
Requirements backlog anchored to a capability help companies focus on capability evolution, not siloed project execution.
Using capabilities as Lego blocks, business owners and product managers can communicate their needs better to allow for optimal technology enablement.
A detailed capabilities list, with logical clusters of related functionality, helps in vendor evaluation and selection.
A capability view helps you identify conflicts, overlaps, and redundancies and zero in on the weak areas to develop a roadmap to evolve the capabilities.
Will a generic business capabilities map fit our unique needs?
The goal of CIOPages.com business capability maps is to meet or beat a threshold of 75-80% relevance. There is always that 20-25% that may need to be modified and customized to capture the unique essence of your enterprise. Also, having a pre-built capability reference model helps in a) not missing out on the core and distinct business capabilities and b) spend 80% of your time on the 20% of the capabilities that make you who you are!
But I've seen this entire Capability Map depicted as a few boxes. Why so many Capabilities?
The problem with some of the mickey-mouse capability maps is that they are too high level and are nothing more than a few boxes and arrows that can become Wall Art.
For a capability to link strategy to execution, and to bring about functional enablement at a feature/function level, a well-structured and deeply-decomposed business capability map is essential.
Managing hundreds of capabilities – writing capability profiles, assessing the capabilities, conducting a gap analysis between the desired state and current state of company capabilities, and anchoring backlog items to capabilities – is a complex task and it may benefit your firm to have a capability modeling software.
Can you help us customize the business capabilities model to our enterprise needs?
We are glad you asked! Yes, of course. Our domain and functional experts can contribute to take these sample business capabilities model and customize to your needs.
With a full-fledged capability reference model as an accelerator, the work will be fast, efficient and effective.
Contact us for Advisory/Consulting Services.
Why should I pay?
The domain knowledge and intellect that went into constructing the capability models is very high. The cost is less than 2-hours of time of a low-priced consultant. Or perhaps the price of pizza lunch for the team to brainstorm and whiteboard the enterprise business capabilities model.
Consider the ROI: B) The hours of work it will have saved your team if they tried to build something from scratch. B) The time saved due to the straw model covering 75-80% of your needs. And c) the value of focusing on what makes you unique rather than work on the entire list of corporate capabilities.
Licensing Options:
We keep the licensing options – clean and straightforward.
Individual License: Where we offer an individual license, you can use the deliverable for personal use. You pay only once for using the deliverable forever. You are entitled any new updates within 12 months.
Enterprise License: If you are representing a company, irrespective of size, and intend to use the deliverables as a part of your enterprise transformation, the enterprise license is applicable in your situation. You pay only once for using the deliverable forever. You are entitled any new updates within 12 months.
Consultancy License: A consulting or professional services or IT services company that intends to use the deliverables for their client work need to pay the consultancy license fee. You pay only once for using the deliverable forever. You are entitled any new updates within 12 months.
Product FAQs:
Can I see a Sample Deliverable?
We are sorry, but we cannot send or show sample deliverables. There are two reasons: A) The deliverables are our intellectual property, and we cannot share the same. B) While you may be a genuine buyer, our experience in the past has not been great with too many browsers and not many buyers. We believe the depth of the information in the product description and the snippets we provide are sufficient to understand the scope and quality of our products.
When can I access my deliverables?
We process each transaction manually and hence, processing a deliverable may take anywhere from a few minutes to up to a day. The reason is to ensure appropriate licensing and also validating the deliverables.
Where can I access my deliverables?
Your best bet is to log in to the portal and download the products from the included links. The links do not expire.
Are there any restrictions on Downloads?
Yes. You can only download the products three times. We believe that is sufficient for any genuine usage situation. Of course, once you download, you can save electronic copies to your computer or a cloud drive.
Can I share or sell the deliverables with anyone?
You can share the deliverables within a company for proper use. You cannot share the deliverables outside your company. Selling or giving away free is prohibited, as well.
Can we talk to you on the phone?
Not generally. Compared to our professional services fee, the price of our products is a fraction of what we charge for custom work. Hence, our business model does not support pre-sales support.
Do you offer orientation or support to understand and use your deliverables?
Yes, for a separate fee. You can hire our consultants for remote help and in some cases for onsite assistance. Please Contact Us.