Change Management Stakeholders Persona Template
$19 – $49
Licensing Options
Product FAQs
Product Description
Change Management Stakeholders Persona Template is simple and easy to use the artifact to document the personalities, preferences, and biases of the stakeholders who are impacted by any transformational change. The personas help in planning and executing a change management program efficiently and effectively.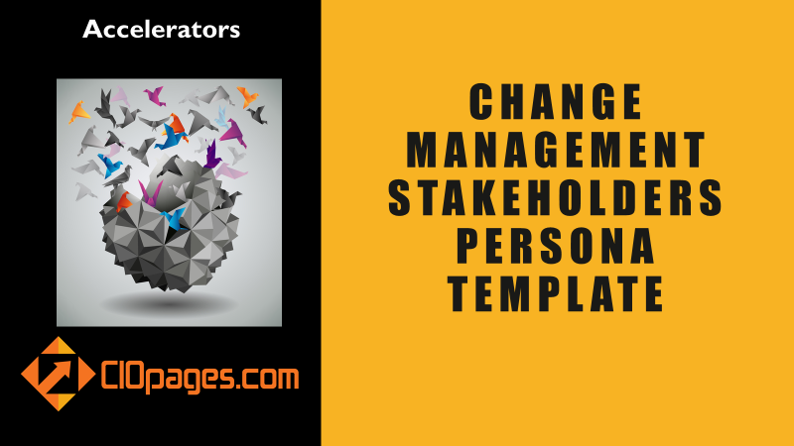 There are various stakeholders for any significant enterprise transformation – internal business units, employee groups, and some external participants. Moreover, how these formal and informal groups will understand, appreciate, adapt, and adjust to the new standard will make or break the change management endeavor. The Change Management Stakeholders Persona Template is a way to identify and document the key stakeholders who will determine the success or failure of the transformational change.  The stakeholder persona is one of the inputs for a comprehensive change management stakeholder analysis.
Personas are a proven technique and are a vital input for many use cases such as customer experience management, user experience design, buyer profiles et al.
What is Change Management Stakeholders Persona Template?
CIOPages.com Change Management Stakeholders Persona Template is a simple and customizable artifact to identify and profile the key stakeholders, who will positively or negatively impact any change management endeavor. Understanding the profile helps in tailoring the change management program to meet the needs of different personas.
The template is a simple PowerPoint template with fields and instructions/hints to document the stakeholders' personalities, preferences, needs, and wants about the transformation program in general, and change management plan in particular.
Fine Print:
The CIOPages.com Change Management Stakeholders Persona Template is a digital product and hence absolutely no returns or refunds.
The Persona Template may or may not fit your needs. Furthermore, you may be able to find a generic template for free and modify to your needs.
Sold on an as-is basis and without any implied or explicit warranties
Consultants and consulting firms who want to use it for their clients have a different pricing model.
The sale is for the template only and does not include customization or implementation help.
Please review our standard terms of service.
error:
Content is protected !!