Consumer Products and Retail Business Capabilities Model
$999 – $2,999
Licensing Options
Product FAQs
Product Description
Consumer Products and Retail Business Capabilities Model: Consumer products and retail industry are undergoing tremendous change due to changing customer preferences, the rise of e-commerce, and intense global competition.  A technology-enabled, customer-centric transformation is underway.  The Consumer Products and Retail business capability model will serve as a foundation to drive technology enablement and enterprise transformation decisions.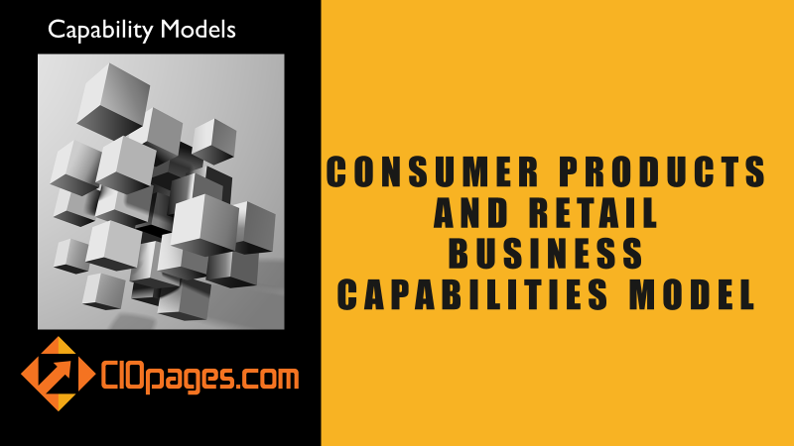 Consumer Products and Retail Capabilities Model Overview:
CIOPages.com Consumer Products and Retail Business Capability Model is a pre-built and customizable list of business capabilities for CP/R firms that are in consumer goods (durables and consumables) and retail. The CPR business capabilities model is an integrated and in-depth artifact and captures the essence of all critical functions of a Consumer Products and Retail firm. It is a must-have tool for business and enterprise architects to jumpstart capability modeling and business architecture efforts.
The Consumer Products and Retail capabilities map includes the following formats:
An Excel spreadsheet with the list of Consumer Products and Retail capabilities. The spreadsheet also includes additional worksheets with templates to conduct a capabilities assessment as well as a model to map core relationships.
A PowerPoint format with the top three levels in a nested visualization.
A Word document with capabilities in a multilevel list format.
BONUSES: Several bonus documents about capability modeling and business architecture.
How to use the Consumer Products and Retail Business Capabilities Model?
As a business or technology leader in the consumer products and retail industry, you understand the strategic imperative to transform into a digital-first enterprise.  To embark on this endeavor, you will need a structural foundation to make critical decisions about technology enablement and process optimization. The Consumer Products and Retail business capabilities model is such a foundational artifact as it encapsulates end-to-end aspects of the function of a Consumer Products and Retail firm in a comprehensive, multi-level list.
There are several benefits from business capabilities, including, among others:
Capabilities are a common language between technology speak, and business needs.
Capabilities abstract the business functions and flows into entities that are stable and long-lasting.
A capability-based roadmap helps teams move away from project silos and into capability evolution.
The juxtaposition of capabilities and systems/applications provide a footprint analysis and can lead to better application portfolio rationalization decisions.
Sample Consumer Products and Retail Business Capabilities.
(The example below is a sliver of the Consumer Products and Retail business capabilities model.)
Product Management and Development

Opportunity Management

Industry, Market and Competitive Analysis
Voice of the Customer
Opportunity Identification and Assessment
Opportunity Prioritization
MORE CAPABILITIES AT VARIOUS OTHER LEVELS
(There are several more pillars and additional details in multiple levels of granularity.)
The Consumer Products and Retail capabilities matrix include decomposition of up to level 2, 3, and 4 as necessary.
The Consumer Products and Retail capabilities model is a result of the combined efforts of business architects, Consumer Products and Retail domain experts, and enterprise architects. The Consumer Products and Retail capabilities list strives to be mutually exclusive, collectively exhaustive, and individually a whole.
Additional Bonus Deliverables offered FREE of Charge:
FREE BONUS Deliverables
General Intro to Capability Modeling
Business Architecture Framework
Business Capability Profile Template
Capability Assessment Template - Criteria and Notes
Role and Responsibilities of Business Architecture Leader
Fine Print:
The CIOPages.com Consumer Products and Retail business capabilities model is a digital product and hence, absolutely no returns or refunds.
A generic capabilities model may or may not fit your needs, or the percentage of which capabilities are relevant will vary widely.
Sold on an as-is basis and without any implied or explicit warranties
Consultants and consulting firms who want to use it for their clients have a different pricing model.
The sale is for the model only and does not include customization or implementation help.
Please review our standard terms of service.
Need Customization Help?
What are Business Capabilities?
Business Capabilities describe "What" business does. Business capabilities act as the foundational building blocks in business architecture as they are the solid components and stable entities to model a company. There is a lot of information on capabilities at Capstera.
What is the value of a Business Capabilities Model?
A well-structured business capability model aligns business and technology.
A company-wide capabilities matrix provides a common language that bridges the traditional gap between business and IT teams.
A granular capability model (not too high level) allows for mapping to technology components to understand the functional sufficiency and footprint of applications to meet business needs.
A company-wide capabilities assessment with regards to strategic importance, underlying process maturity, adequacy of resourcing, and level of technology enablement paints a vivid picture of the state of the enterprise.
Requirements backlog anchored to a capability help companies focus on capability evolution, not siloed project execution.
Using capabilities as Lego blocks, business owners, and product managers can communicate their needs better to allow for optimal technology enablement.
A detailed capabilities list, with logical clusters of related functionality, helps in vendor evaluation and selection.
A capability view helps you identify conflicts, overlaps, and redundancies and zero in on the weak areas to develop a roadmap to evolve the capabilities.
Will a generic business capabilities map fit our unique needs?
The goal of CIOPages.com business capability maps is to meet or beat a threshold of 75-80% relevance. There is always that 20-25% that may need to be modified and customized to capture the unique essence of your enterprise. Also, having a pre-built capability reference model helps in a) not missing out on the core and distinct business capabilities and b) spend 80% of your time on the 20% of the capabilities that make you who you are!
But I've seen this entire Capability Map depicted as a few boxes. Why so many Capabilities?
The problem with some of the mickey-mouse capability maps is that they are too high level and are nothing more than a few boxes and arrows that can become Wall Art.
For a capability to link strategy to execution, and to bring about functional enablement at a feature/function level, a well-structured and deeply-decomposed business capability map is essential.
Managing hundreds of capabilities – writing capability profiles, assessing the capabilities, conducting a gap analysis between the desired state and current state of company capabilities, and anchoring backlog items to capabilities – is a complex task, and it may benefit your firm to have a capability modeling software.
Can you help us customize the business capabilities model to our enterprise needs?
We are glad you asked! Yes, of course. Our domain and functional experts can contribute to take these sample business capabilities model and customize to your needs.
With a full-fledged capability reference model as an accelerator, the work will be fast, efficient, and effective.
Contact us for Advisory/Consulting Services.
Why should I pay?
The domain knowledge and intellect that went into constructing the capability models is very high. The cost is less than 2-hours of time of a low-priced consultant. Or perhaps the price of pizza lunch for the team to brainstorm and whiteboard the enterprise business capabilities model.
Consider the ROI: B) The hours of work it will have save your team instead of building something from scratch. B) The time saved due to the straw model covering 75-80% of your needs. And c) the value of focusing on what makes you unique rather than work on the entire list of corporate capabilities.
Licensing Options:
We keep the licensing options – clean and straightforward.
Individual License: Where we offer an individual license, you can use the deliverable for personal use. You pay only once for using the deliverable forever. You are entitled any new updates within 12 months.
Enterprise License: If you are representing a company, irrespective of size, and intend to use the deliverables as a part of your enterprise transformation, the enterprise license is applicable in your situation. You pay only once for using the deliverable forever. You are entitled any new updates within 12 months.
Consultancy License: A consulting or professional services or IT services company that intends to use the deliverables for their client work need to pay the consultancy license fee. You pay only once for using the deliverable forever. You are entitled any new updates within 12 months.
Product FAQs:
Can I see a Sample Deliverable?
We are sorry, but we cannot send or show sample deliverables. There are two reasons: A) The deliverables are our intellectual property, and we cannot share the same. B) While you may be a genuine buyer, our experience in the past has not been great with too many browsers and not many buyers. We believe the depth of the information in the product description and the snippets we provide are sufficient to understand the scope and quality of our products.
When can I access my deliverables?
We process each transaction manually and hence, processing a deliverable may take anywhere from a few minutes to up to a day. The reason is to ensure appropriate licensing and also validating the deliverables.
Where can I access my deliverables?
Your best bet is to log in to the portal and download the products from the included links. The links do not expire.
Are there any restrictions on Downloads?
Yes. You can only download the products three times. We believe that is sufficient for any genuine usage situation. Of course, once you download, you can save electronic copies to your computer or a cloud drive.
Can I share or sell the deliverables with anyone?
You can share the deliverables within a company for proper use. You cannot share the deliverables outside your company. Selling or giving away free is prohibited, as well.
Can we talk to you on the phone?
Not generally. Compared to our professional services fee, the price of our products is a fraction of what we charge for custom work. Hence, our business model does not support pre-sales support.
Do you offer orientation or support to understand and use your deliverables?
Yes, for a separate fee. You can hire our consultants for remote help and in some cases for onsite assistance. Please Contact Us.
error:
Content is protected !!