Marketing Capabilities Model: List of marketing capabilities
$499.00 – $1,299.00
Licensing Options
Product FAQs
Product Description
Marketing Capabilities Model: CIOPages offers a comprehensive, industry-agnostic, multi-purpose Marketing Management functional area capabilities framework. Our Marketing capabilities model spans all critical areas of marketing and is a hierarchical decomposition of "What" marketing function does. Marketing capabilities are an integral part of an overall enterprise business capabilities map.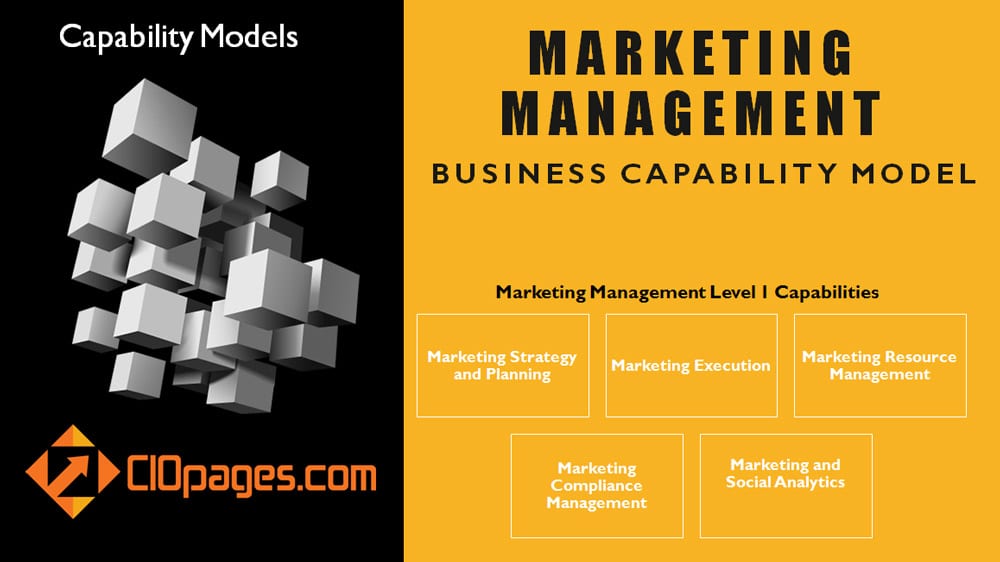 What do I get?
A Marketing Capabilities Model with ~140 capabilities

Formats:
Why do we need a Marketing Capabilities Model?
The value of marketing capabilities is multi-dimensional as they help bridge the gap between business and IT, help understand the essence of what marketing does, and align development efforts to strategic priorities, which helps evolve and enhance the marketing capabilities.  In particular, as the digital age transforms the field of marketing, a well-thought-out marketing capabilities list is an essential transformation planning artifact.
Ideally, your firm should have a structured and well-defined enterprise business capabilities model, and as an integral part, a subset of marketing capabilities. And furthermore, for the marketing capability matrix to the actionable, it should be decomposed to a slightly granular level of capabilities (Level 3 or 4) for it to be actionable and to leverage in operational improvement and IT enablement projects.
One of the core functions of an enterprise is marketing – itself, as well as its products and services. In today's highly competitive marketing realm, inbound and outbound marketing, building brand equity and harnessing social media are of paramount importance. To help with these objectives, a well-structured marketing capabilities framework provides visibility and structure for planning.
CIOPages marketing capabilities framework intends to capture the detailed view and a nuanced perspective of what marketing does. It includes the nuts and bolts functional capabilities, as well as emerging and value-added areas.
The Marketing Capabilities Model will help provide a jumpstart to envision a future state, conduct gap analysis, identify capabilities which are needed/improved, and help focus efforts on capabilities that matter!
What's a Marketing Capabilities Model?
The marketing capabilities model is decomposed to a minimum of two levels across the spectrum of the marketing function and many a time to levels three and four as well, depending on the granularity and modularity necessary.
The marketing capability map is structurally sound, internally coherent and maintains principles of MECE (mutually exclusive and collectively exhaustive), for the most part.
Marketing Capabilities Model – Level 1
Marketing Strategy and Planning
Marketing Execution
Marketing Resource Management
Marketing Compliance Management
Marketing and Social Analytics
Level 1
Marketing Strategy and Planning
Marketing Execution
Marketing Resource Management
Marketing Compliance Management
Marketing and Social Analytics
Level 2
Advertising Management
Corporate Communication
Lead Generation
Email Management
Prospect Marketing
Customer Base Marketing
Mobile Marketing
Digital Marketing
Level 3
Creative Strategy and Positioning
Creative Development
Ad Inventory Management
Ad Campaign Management
Measurement, Insights, and Analytics
Level 4
Advertising Insertion Order Management
Advertising Pricing and Media Buying
AD Schedule Management
Ad Distribution
Ad Tracking
How to build a Marketing Transformation Roadmap using the marketing capabilities list?
A marketing capabilities list is an excellent starting point to build a Marketing transformation roadmap. Of course, it is not easy to create a roadmap, and it will involve understanding the marketing transformation process and having a marketing transformation approach. However, here are the summary steps:
Using the inventory of the marketing capabilities model as a base, please add/remove/refine the Marketing business capabilities that are relevant to your enterprise.
Conduct a current state assessment on a variety of factors such as the strategic importance of the Marketing Capabilities, the level of technology enablement, the resource adequacy, and the maturity of the underlying business processes.
Envision the future state and determine the level of maturity and sophistication your company will need to achieve in specific marketing capability areas to reach the Marketing vision and goals.
Assess the gaps between the current state and the future target state and identify specific improvements you will need to get to the desired state.
Conduct an impact analysis on people, process, capability, and technology to reach the desired future state.
Sequence the capabilities based on a variety of factors such as business value, technology complexity, cost, and competitive dynamics.
Create a Marketing Transformation Roadmap using the Marketing capabilities as the building blocks.
When you buy a Marketing Capabilities Model, you also get the following FREE:
FREE BONUS Deliverables
General Intro to Capability Modeling
Business Architecture Framework
Business Capability Profile Template
Capability Assessment Template - Criteria and Notes
Role and Responsibilities of Business Architecture Leader
Caveats:
As the Marketing Capabilities Model is a digital product, there are absolutely NO Returns.
Depending on your industry, the type of marketing processes, and the scope of the functional footprint, some of the marketing capabilities may not be relevant to you.
If you are a consultant or a consulting company,  there is different pricing, license, and terms.
Sold on an as-is basis and no warranties
This sale does not include customization, help, or support. If you need professional services assistance, please contact us.
Please review our standard terms of service.
Need Customization Help?
Business capabilities are the foundational building blocks or Rosetta Stone for business and technology alignment. Business Capabilities describe "What" business does.
How should I use the Marketing Capabilities Matrix?
Understand the essence of what marketing does at an elemental level of detail.
Foster alignment between business and technology with a universal language.
Mapping to Applications/Services to understand the footprint and coverage
Creating a gap analysis between the current state and future state based on Capability Maturity
Understanding business needs for IT enablement based on stable entities
Conducting vendor analysis using capabilities to compare apples and apples
Leveraging in M&A to compare capabilities and their maturity between two firms
But, our Company is unique – will a generic list of marketing capabilities fit us?
Of course, every business is slightly different regarding which marketing capabilities it harnesses, as well as how they operate within a specific situation. However, while there may be divergence at the edges, there is a lot of convergence at the core. The differences may be in part due to differences in industry, geography, types of products and services, and business model. Furthermore, the relative emphasis of the critical value streams and the absence or presence of specific capabilities and competencies based on your unique needs may need to be reflected.
Last but not least, we don't expect our Marketing Capabilities Model for Marketing (or any other model in fact) to fit you 100%. We hope you to take this as a straw model or a base and a springboard to achieve the level customization and specificity you desire.
If you need professional services to help tailor the marketing capabilities framework to your needs and capture your firm's unique essence, we can help.
Contact Us for Advisory Service details.
When should we buy a Marketing Capability Model?
Anytime is a good time! However, there are always triggers which may necessitate a Capability Model.
Strategic review of the marketing function for transformation
Re-architecture of marketing platforms and systems
Re-engineering of marketing processes
Endeavor to include marketing in the scope of an enterprise business capability model
But, we have a CRM capabilities list already?
Well, in that case, either you can go with the existing list of marketing capabilities, or if you require validation and cross-reference, you will still find our marketing capability model valuable. After all, the price is less than the one-hour of the cumulative time spent by the combined brainpower assembled in the room.
What is my ROI?
The Value of Time Spent:
Typically, it takes a team of 4-5 to draft a Marketing Capabilities Model:
Product Manager
Business Architect
Enterprise Architect
Marketing Functional Experts – 2 or 3 to represent the broad spectrum of functional areas.
Now you can multiply the average hourly cost of the team and the hours spent, and you'll get the story.
Opportunity Cost:
In addition to the time spent and the associated costs of drafting routine Marketing Capabilities, you also have an opportunity cost.
An ability to quickly add/delete/modify the base set of Marketing Business Capabilities will allow you the luxury of spending the balance of your quality time in conceptualizing and crafting the unique and specific Capabilities. The new/refined capabilities should capture the essence of your company and its practices, principles, and perspectives.
Of course, let's not forget the "Day Job" each of the SMEs (subject matter experts) could be doing.
Acceleration:
Instead of spending countless hours stretched across weeks or months, you can have a baseline of Marketing Capabilities in a couple of sittings. That helps you expedite and accelerate the marketing transformation planning.
Marketing Capabilities Model: List of marketing capabilities
$499.00 – $1,299.00
Licensing Options
Product FAQs
Licensing Options:
We keep the licensing options – clean and straightforward.
Individual License: Where we offer an individual license, you can use the deliverable for personal use. You pay only once for using the deliverable forever. You are entitled any new updates within 12 months.
Enterprise License: If you are representing a company, irrespective of size, and intend to use the deliverables as a part of your enterprise transformation, the enterprise license is applicable in your situation. You pay only once for using the deliverable forever. You are entitled any new updates within 12 months.
Consultancy License: A consulting or professional services or IT services company that intends to use the deliverables for their client work need to pay the consultancy license fee. You pay only once for using the deliverable forever. You are entitled any new updates within 12 months.
Product FAQs:
Can I see a Sample Deliverable?
We are sorry, but we cannot send or show sample deliverables. There are two reasons: A) The deliverables are our intellectual property, and we cannot share the same. B) While you may be a genuine buyer, our experience in the past has not been great with too many browsers and not many buyers. We believe the depth of the information in the product description and the snippets we provide are sufficient to understand the scope and quality of our products.
When can I access my deliverables?
We process each transaction manually and hence, processing a deliverable may take anywhere from a few minutes to up to a day. The reason is to ensure appropriate licensing and also validating the deliverables.
Where can I access my deliverables?
Your best bet is to log in to the portal and download the products from the included links. The links do not expire.
Are there any restrictions on Downloads?
Yes. You can only download the products three times. We believe that is sufficient for any genuine usage situation. Of course, once you download, you can save electronic copies to your computer or a cloud drive.
Can I share or sell the deliverables with anyone?
You can share the deliverables within a company for proper use. You cannot share the deliverables outside your company. Selling or giving away free is prohibited, as well.
Can we talk to you on the phone?
Not generally. Compared to our professional services fee, the price of our products is a fraction of what we charge for custom work. Hence, our business model does not support pre-sales support.
Do you offer orientation or support to understand and use your deliverables?
Yes, for a separate fee. You can hire our consultants for remote help and in some cases for onsite assistance. Please Contact Us.