Finance Transformation Toolkit Enterprise Edition
$

749.00
Are you a Consultant? The Enterprise Edition is for a company that intends to use the Toolkit within the firm. If you are a Consultancy, intending to use the Toolkit at multiple clients, please click here to purchase the Consultancy Edition.
Toolkit Bundled Price :

$

749.00
If Individually Purchased :

$1,324.00
Product Description
Finance Transformation Toolkit is a comprehensive and in-depth set of deliverables which will meet the documentation needs of a significant accounting and finance transformation program in medium and large firms. The finance transformation toolkit deliverables are editable documents in Word, PowerPoint, and Excel formats for easy customization to the unique needs of any enterprise.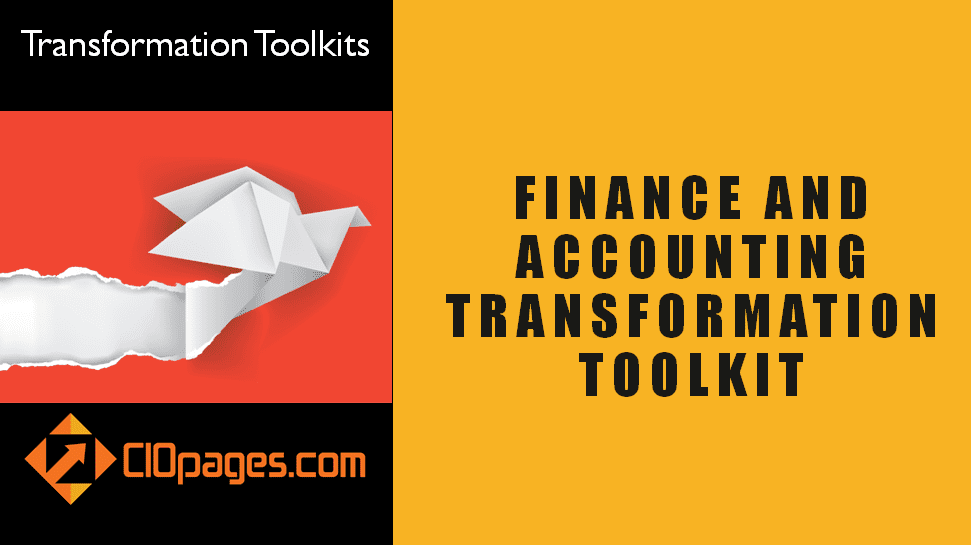 What is Finance Transformation (or Record to Report Transformation)?
The accounting and finance function is no longer a keeper of historical records. In today's complex world, the CFO (Chief Financial Officer) and the finance team are playing the role of strategic advisors, financial alchemists, and enterprise evolvers. Also, the accounting, finance, and controllership functions are redefining the what services they deliver and how they provide to meet the demands of the digital world where real-time business metrics and data-driven decision making are crucial for success.
Furthermore, a set of modern, cloud-based Financial Software solutions offer an opportunity to retire the cumbersome, costly, and complicated platforms of the past and leapfrog to agile and flexible systems that adapt to the needs of the enterprise record to report value stream.
Why do enterprises need a Finance Transformation Toolkit?
For most medium and large enterprises, transforming financial function is a critical endeavor. Record to Report transformation is an invasive and intense program as it affects core processes and systems and impacts every aspect of the organization. In addition to people, process, and system change, the R2R re-platforming often involves changes in operating model and service definition and delivery.
Firms constitute multi-functional project teams to shepherd this massive change. Instead of focusing on weightier matters, project teams often spend countless hours and expend enormous energy on compiling documents, rather than focus on outcomes and managing the program. A Finance Transformation Toolkit from CIOPages.com will allow teams to accelerate the development of artifacts and execute the plan more efficiently and effectively.
What are the deliverables in the Finance Transformation Toolkit?
CIOPages.com Financial Transformation Toolkits comprise a set of in-depth and invaluable deliverables, many of which are PowerPoint presentations, as well as Excel spreadsheets and Word documents.
The following are some of the artifacts included in the Finance and Accounting Transformation Toolkit:
Finance Transformation Roadmap and Business Case
Record to Report Value Streams
Accounting and Finance Business Requirements
Finance Transformation Change Management Plan
Financial Software Systems Implementation Considerations
Enterprise Financials – Software Features
Financial Software Vendor Scan and Mini Profiles
Finance Transformation Project Plan
Finance Transformation program RACI Matrix
Finance Transformation – Mini Project Charter
Finance Transformation Program Checklist
Finance Transformation Program – Work Streams and Roles
Finance Transformation Program – Success Metrics
Finance Transformation Program – Training Plan
Transformation Program Communication Best Practices
Finance Transformation Program – Reasons for Failure
What is a Transformation Toolkit?
CIOPages.com Transformation Toolkits are high-quality deliverables for any enterprise transformation of critical functions, such as finance, supply chain, human resources, marketing, CRM, and business intelligence.
Project teams can quickly customize the deliverables to the unique needs of the enterprise finance transformation.
What is the advantage of buying a CIOPages.com Transformation Toolkit?
Finance and Accounting transformation is fraught with challenges. A set of well-thought-out deliverables will help mitigate some of the risks. The following are the key advantages of a CIOPages Transformation Toolkits:
The Time to Value:
Instead of spending months, and expending tons of effort, CIOPages.com Transformation Toolkits accelerate time to value.
Focus on Execution:
The goal is to enable project teams to focus on performance and not necessarily artifact creation.
Cost Savings:
Imagine, the amount of money you can save by using CIOPages.com transformation toolkits as a straw deliverable and a starting point. Even a lower tier consulting firm will cost tens of thousands of dollars, whereas, for a fraction of that cost, you can get going immediately.
What if we don't want all the items in a Transformation Toolkit?
The set of deliverables is offered at a very low bundled price to make it incredibly valuable and eminently economical for any firm interested in these deliverables. However, should you want individual items, you are welcome to purchase what you need. Please browse CIOPages.com Accelerators for all the separate pieces. Or click on the different items listed on the left.
Can you help us in Customizing the Transformation Toolkit?
CIOPages.com offers consulting and advisory services to take the Transformation Toolkits as a starting point and customize to a company's unique needs. The time and cost will depend on the level of customization and the specificity you need from us.
Please Contact Us for further information and a consulting services quote.
Products included in the Transformation Toolkit:
Licensing Options:
We keep the licensing options – clean and straightforward.
Individual License: Where we offer an individual license, you can use the deliverable for personal use. You pay only once for using the deliverable forever. You are entitled any new updates within 12 months.
Enterprise License: If you are representing a company, irrespective of size, and intend to use the deliverables as a part of your enterprise transformation, the enterprise license is applicable in your situation. You pay only once for using the deliverable forever. You are entitled any new updates within 12 months.
Consultancy License: A consulting or professional services or IT services company that intends to use the deliverables for their client work need to pay the consultancy license fee. You pay only once for using the deliverable forever. You are entitled any new updates within 12 months.
Product FAQs:
Can I see a Sample Deliverable?
We are sorry, but we cannot send or show sample deliverables. There are two reasons: A) The deliverables are our intellectual property, and we cannot share the same. B) While you may be a genuine buyer, our experience in the past has not been great with too many browsers and not many buyers. We believe the depth of the information in the product description and the snippets we provide are sufficient to understand the scope and quality of our products.
When can I access my deliverables?
We process each transaction manually and hence, processing a deliverable may take anywhere from a few minutes to up to a day. The reason is to ensure appropriate licensing and also validating the deliverables.
Where can I access my deliverables?
Your best bet is to log in to the portal and download the products from the included links. The links do not expire.
Are there any restrictions on Downloads?
Yes. You can only download the products three times. We believe that is sufficient for any genuine usage situation. Of course, once you download, you can save electronic copies to your computer or a cloud drive.
Can I share or sell the deliverables with anyone?
You can share the deliverables within a company for proper use. You cannot share the deliverables outside your company. Selling or giving away free is prohibited, as well.
Can we talk to you on the phone?
Not generally. Compared to our professional services fee, the price of our products is a fraction of what we charge for custom work. Hence, our business model does not support pre-sales support.
Do you offer orientation or support to understand and use your deliverables?
Yes, for a separate fee. You can hire our consultants for remote help and in some cases for onsite assistance. Please Contact Us.