Marketing Transformation – Sample business case and roadmap
$99.00 – $299.00
Licensing Options
Product FAQs
Product Description
The Marketing Transformation – Sample Business Case and Roadmap is a proforma deliverable that can be modified and customized to the specific needs of any company. Marketing Automation and Transformation has become a strategic imperative for many companies.  It is due to the twin drivers – the growing importance of marketing, particularly digital and social media marketing, as a game changer; and a new generation Marketing software systems that incorporate user experience, analytics, and social features as an integral part of the offering.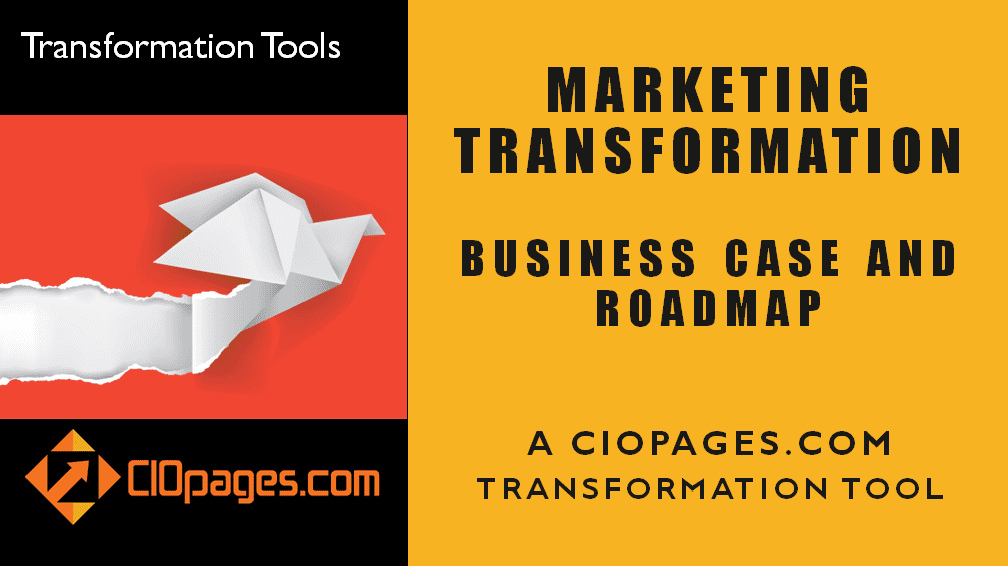 The current Marketing systems environment is complicated and convoluted by the number and range of technology solutions and other feeder systems supporting new and legacy business processes. Consequently, this technological complexity is driving up the operational costs and the resources to maintain a large infrastructure footprint and a patchwork of systems. Furthermore, the current interface complexity and architectural limitations do not lend itself well to the future growth aspirations of any enterprise.
Last but not the least the advent of new generation cloud-based SAAS (Software-as-a-Service) offerings in Marketing automation space – covering every Marketing management niche imaginable – are making Marketing automation and transformation a corporate imperative. Marketing is changing, and for the better.
What is Marketing Transformation – Sample business case and roadmap?
The sample deliverable envisages that the project would aim at simplifying and modernizing the Marketing systems and solutions to help improve the efficiency of marketing operations. The proposed enterprise-wide marketing transformation solution would significantly strengthen the commercial agility and the ability to enhance customer experience across channels while moderating technology costs.
The scope of the deliverable includes all the Marketing information systems and processes the life cycle of the marketing function. The deliverable also provides a preliminary scan of the Marketing automation vendor landscape and technology trends to identify appropriate choice alternatives for further evaluations against the business criteria. The fundamental guiding principles in developing the Marketing Transformation Roadmap is the broad consensus about the value of an investment and the systematic convergence of efforts across process, people, and technology. On this basis, the Marketing Transformation is a business imperative which is expected to create a higher return on investment.
What are the contents of the Marketing Transformation Business Case and Roadmap?
The Marketing Automation and Transformation Business Case and Roadmap is a PowerPoint deck presented in the voice of a large Global 2000 firm.
The content is both broad and profound with ~30 well structured and information-rich slides, which you can reuse with or without modifications.
What does the deliverable not include?
No primary research or original forecasts.
No in-depth vendor evaluations or rankings.
No quantitative business case.
Marketing Transformation: Business case and Roadmap – Outline
Why do Marketing Transformation?

Our business challenges in this new age
The current state of systems and processes

What is Marketing Transformation?

Outcomes of Cloud, IT, Marketing, Business
What future Marketing will look like and support the business

How to perform Marketing Transformation?

A roadmap for change
A playbook for implementation
Caveats:
As the Marketing Transformation – Sample business case and roadmap is a digital product; there are absolutely NO Returns.
Depending on your industry, the types of marketing needs and methods, some or all of the content may or may not be relevant to you.
If you are a consultant or a consulting company, there is different pricing, license, and terms.
Sold on an as-is basis and no warranties
This sale does not include implementation help or support. If you need professional services assistance, please Contact Us.
The sale of this item is bound by our terms of service.
What is a CIO Pages Transformation Business Case and Roadmap?
CIOPages.com Marketing Transformation – Sample business case and roadmap is created as a sample/proforma deliverable based on a fictitious company that is representative of a typically large and complex enterprise.
What is the value of this deliverable?
More often than not, teams tasked with creating a business case, and a transformation roadmap has to start with a blank slate and spend a lot of time in figuring out the basics. When the team spends 100% of the time in creating the 80% general stuff, the 20% which is core and unique is often than not missed out. With a CIOPages sample/proforma deliverable, the ratios of flipped by affording the teams to spend 20% on the 80% general stuff and 80% on the 20% items that matter!
How do I use a Marketing Transformation – Sample business case and roadmap deliverable?
Leverage the content outline to formulate your thoughts and ideas.
Use the content with or without modifications.
Let the slide formats and layout help you in creating compelling and information-rich decks
Use the content as a cross reference, validation, and a checklist.
Use it as a part of an overall Marketing Transformation Toolkit.
But our Company is unique. Will it fit our needs?
Of course, each company is unique in some respects. But you'd be surprised to know that there is a lot of commonality between firms about the challenges and constraints in the current situation, as well as what a potential future state might entail. So the idea is if the content in this deck helps anywhere between 50-75% of your needs, it will accelerate your time to value.
Who writes these Transformation Business Case and Roadmaps?
CIOPages.com has access to a talented team of contributors and consultants who are industry practitioners and subject matter experts. A former consultant with in-depth marketing transformation expertise wrote the CIOPages.com proforma/sample business case and transformation roadmap.
Can you customize the deliverable to our needs?
Of course! We'd love to take the proforma/sample deliverable as a springboard and help you create a consistent and compelling deliverable that is based on your unique needs and wants.
What type of Professional Services do you offer?
Our typical offerings include different strokes for different folks:
Customize the Business Case and Roadmap to your needs.
Craft a full-fledged set of business requirements
Conduct a vendor scan and fit-for-purpose analysis.
Manage an RFP process and assist with vendor selection.
Provide project/program management help for implementation
Contact Us for more details on our Offerings
Licensing Options:
We keep the licensing options – clean and straightforward.
Individual License: Where we offer an individual license, you can use the deliverable for personal use. You pay only once for using the deliverable forever. You are entitled any new updates within 12 months.
Enterprise License: If you are representing a company, irrespective of size, and intend to use the deliverables as a part of your enterprise transformation, the enterprise license is applicable in your situation. You pay only once for using the deliverable forever. You are entitled any new updates within 12 months.
Consultancy License: A consulting or professional services or IT services company that intends to use the deliverables for their client work need to pay the consultancy license fee. You pay only once for using the deliverable forever. You are entitled any new updates within 12 months.
Product FAQs:
Can I see a Sample Deliverable?
We are sorry, but we cannot send or show sample deliverables. There are two reasons: A) The deliverables are our intellectual property, and we cannot share the same. B) While you may be a genuine buyer, our experience in the past has not been great with too many browsers and not many buyers. We believe the depth of the information in the product description and the snippets we provide are sufficient to understand the scope and quality of our products.
When can I access my deliverables?
We process each transaction manually and hence, processing a deliverable may take anywhere from a few minutes to up to a day. The reason is to ensure appropriate licensing and also validating the deliverables.
Where can I access my deliverables?
Your best bet is to log in to the portal and download the products from the included links. The links do not expire.
Are there any restrictions on Downloads?
Yes. You can only download the products three times. We believe that is sufficient for any genuine usage situation. Of course, once you download, you can save electronic copies to your computer or a cloud drive.
Can I share or sell the deliverables with anyone?
You can share the deliverables within a company for proper use. You cannot share the deliverables outside your company. Selling or giving away free is prohibited, as well.
Can we talk to you on the phone?
Not generally. Compared to our professional services fee, the price of our products is a fraction of what we charge for custom work. Hence, our business model does not support pre-sales support.
Do you offer orientation or support to understand and use your deliverables?
Yes, for a separate fee. You can hire our consultants for remote help and in some cases for onsite assistance. Please Contact Us.