Change Management Definition:
Change management is a comprehensive and integrated discipline to help individuals, teams, and enterprises as a whole to adjust, adapt, and thrive in a future state that is an exponential leap from the current state. Change Management is not just about the external manifestations – such as communication and training –  but more about culture, psyche, and mindset, as well.
The change is typically transformational and broadly encompasses capabilities, structure, operating model, processes, and people.  If not addressed in a cohesive manner, the change management challenges could derail any transformation and sub-optimize the intended ROI (Return on Investment) from a transformational project/program.
Merriam Webster defines "Change" as to make a shift from one to another, and "Management" as the conducting or supervising of something (such as a business).  So, when you combine them, one can derive a meaning such as "Orchestrating the shift from one to another in a planned way to help ease the shock of transition."
Change Management Framework:
A conceptual overview of CIOPages.com change management framework.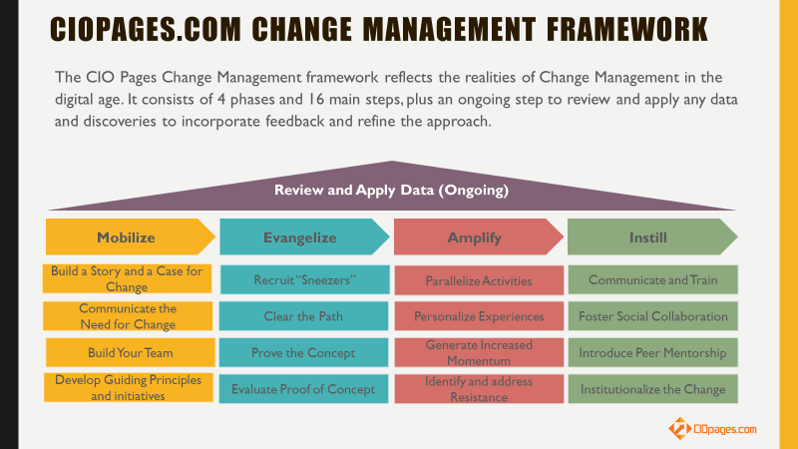 Alternative Names:
Change Program, Transformational Change Management, Enterprise Change Management
Additional Information and Links relating to Change Management:
ADKAR Change Model
Kotter 8-Step Change Process
Wikipedia on Change Management
CIOPages.com Products Related to Changement Management: