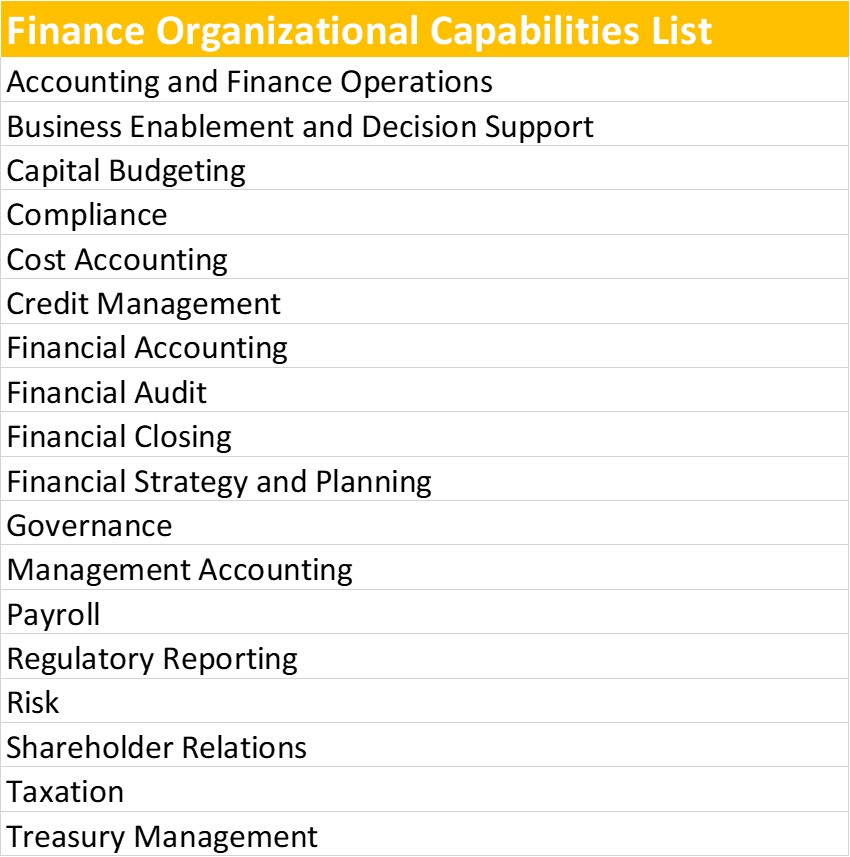 What are the core finance organizational capabilities of a world-class accounting and finance function?  From a nomenclature point of view, what we are referring to here is not the business architecture related business capabilities model, but more of the accounting and finance organizational capabilities, as in the functional and structural components. (Finance business capabilities model builds on similar constructs and concepts, but a capability map is more of an abstract decomposition of the underlying capabilities into granular entities.)
Today, the demands on the accounting and finance functions have increased tremendously. The CFO role has evolved and the accounting and finance functions followed suit.  The C-suite relies on accounting and finance for keeping a pulse on the business vitals, deployment of capital, prudent management of cash and assets, agile support for corporate actions and special situations, and financial data for better decision making.
Finance Organizational Capabilities:
The following are the critical organizational capabilities listed in alphabetical order.
Accounting and Finance Operations
Business Enablement and Decision Support
Capital Budgeting
Compliance
Cost Accounting
Credit Management
Financial Accounting
Financial Audit
Financial Closing
Financial Strategy and Planning
Governance
Management Accounting
Payroll
Regulatory Reporting
Risk
Shareholder Relations
Taxation
Treasury Management
World-class finance organization should try to excel at these capabilities to transform the accounting and finance function from a bean counter to a strategic business support function.
How does one use these Finance Organizational Capabilities?
Conduct an assessment of the finance organizational capabilities and their maturity
Benchmark against peers to understand how your capabilities stack up against competition
Chart out a future desired state and craft a finance strategy and transformation roadmap
CIOPages.com Finance Transformation Products:
Finance Offerings from our Partners: