Bank Business Capabilities Model
$999 – $2,999
Licensing Options
Product FAQs
Product Description
Bank Business Capabilities Model: The traditional banking sector is in the throes of significant transformation thanks to the intense competition from Fintechs, rising customer expectations, and the great unbundling of banking services. The Bank's business capabilities model will be a foundation to drive technology enablement and enterprise transformation decisions. The Banking capability matrix is relevant to retail banks, community banks, and credit unions. The bank business capabilities model comprises 330 capabilities across three levels.
Watch a Product Video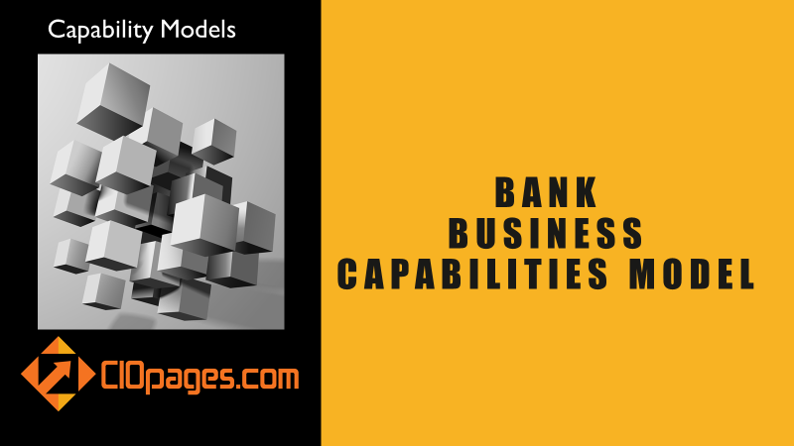 Banks Must Transform to Survive and Thrive:
The banking industry is undergoing a period of rapid transformation driven by several factors, including:
The rise of digital technologies is changing how customers interact with banks.
The increasing competition from non-bank financial institutions, such as fintechs.
The need to comply with new regulations, such as the Basel III Accord.
Banks must transform their business models, processes, and technology to remain competitive and relevant. Business architecture can provide a foundation for this transformation by providing a common understanding of the bank's current state, future state, and the steps needed to get there.
Business architecture is a discipline that defines the structure and behavior of an organization. It is a holistic view of the organization and a business blueprint. Business architecture helps organizations to understand their core at an elemental level.
By taking a holistic approach to transformation, banks can ensure that all of the elements of their business are aligned with their strategic goals. This will help them to deliver a better customer experience, reduce costs, and improve efficiency.
Bank Business Capabilities Model:
CIOPages.com Bank Business Capabilities Model is a pre-built and customizable list of Bank capabilities. The banking business capabilities model is integrated and in-depth and captures the essence of all critical functions of a retail bank.
The Bank business capabilities map includes the following formats:
An Excel spreadsheet with the list of Bank capabilities using the grouping feature.
A PowerPoint format with the top two levels in a nested visualization.
A Word document with capabilities in a multilevel list format.
Capability definitions (level 3)
Capability KPIs (Level 2)
Banking Transformation Guide
BONUSES: Several bonus documents about capability modeling and business architecture.
How to use the Bank Business Capabilities Model?
The Bank capability model is a must-have tool for business and enterprise architects to jumpstart capability modeling and business architecture efforts. It has 330 banking capabilities across three levels.
As a practitioner, you know the value of a business capability model as a foundational business architecture deliverable. For example, the CIOPages Bank capabilities model (or the Banking Industry Capability Model) encapsulates end-to-end aspects of the function of a Bank in a comprehensive, multilevel list.
There are several benefits from business capabilities, including, among others:
Capabilities function as a common language between business and technology teams.
Capabilities are an abstraction of business functions and operational flows that are stable and long-lasting.
A capability-based roadmap helps focus on capability evolution rather than project execution.
The relationship between capabilities and systems/applications provides a footprint analysis and can lead to better application portfolio rationalization decisions.
The Bank business capabilities model results from the combined efforts of business architects, Bank domain experts, and enterprise architects. The Bank capabilities list strives to be mutually exclusive, collectively exhaustive, and individually a whole.
Additional Bonus Deliverables offered FREE of Charge:
FREE BONUS Deliverables
General Intro to Capability Modeling
Business Architecture Framework
Business Capability Profile Template
Capability Assessment Template - Criteria and Notes
Role and Responsibilities of Business Architecture Leader
Fine Print:
The CIOPages.com Bank business capabilities model is a digital product. Hence, we do not accept returns and do not issue refunds.
A generic capabilities model may or may not fit your needs, or the percentage of which capabilities are relevant will vary widely.
Sold on an as-is basis and without any implied or explicit warranties
Consultants and consulting firms wanting to use it for their clients have different pricing models.
The sale is for the model only and does not include customization or implementation help.
Please review our standard terms of service.
Need Customization Help?
What are Business Capabilities?
Business Capabilities describe "What" a business does. Business capabilities are the foundational building blocks in business architecture as they are the solid components and stable entities to model a company.
What is the value of a Business Capabilities Model?
A well-structured business capability model aligns business and technology.
A company-wide capabilities matrix provides a common language that bridges the traditional gap between business and IT teams.
A granular capability model (not too high level) allows for mapping to technology components to understand the functional sufficiency and footprint of applications to meet business needs.
A company-wide capabilities assessment concerning strategic importance, underlying process maturity, adequacy of resourcing, and level of technology enablement paints a vivid picture of the state of the enterprise.
Requirements backlog anchored to a capability helps companies focus on capability evolution, not siloed project execution.
Using capabilities as Lego blocks, business owners and product managers can communicate their needs better to allow for optimal technology enablement.
A detailed capabilities list with logical clusters of related functionality helps evaluate vendors.
A capability view helps you identify conflicts, overlaps, and redundancies and zero in on the weak areas to develop a roadmap to evolve the capabilities.
Will a generic business capabilities map fit our unique needs?
CIOPages.com business capability maps aim to meet or beat a 75-80% relevance threshold. There is always that 20-25% that may need to be modified and customized to capture the unique essence of your enterprise. Also, having a pre-built capability reference model helps in a) not missing out on the core and distinct business capabilities and b) spending 80% of your time on the 20% of the capabilities that make you who you are!
But I've seen this entire Capability Map depicted as a few boxes. Why so many Capabilities?
The problem with some of the mickey-mouse capability maps is that they are too high level and are nothing more than a few boxes and arrows that can become Wall Art.
For a capability to link strategy to execution and to bring about functional enablement at a feature/function level, a well-structured and deeply-decomposed business capability map is essential.
Can you help us customize the business capabilities model to our enterprise needs?
We are glad you asked! Yes, of course. Our domain and functional experts can contribute to taking these sample business capabilities models and customizing them to your needs.
The work will be fast, efficient, and practical with a full-fledged capability reference model as an accelerator.
Contact us for Advisory/Consulting Services.
Why should I pay?
The domain knowledge and intellect that went into constructing the capability models are very high. The cost is less than 2 hours of time for a low-priced consultant. Or perhaps the price of pizza lunch for the team to brainstorm and whiteboard the enterprise business capabilities model.
Consider the ROI: A) The time savings by using a pre-built capabilities straw model instead of building from scratch. B) The time saved due to the straw model covering 75-80% of your needs. And c) the value of focusing on what makes you unique rather than working on the entire list of corporate capabilities.
error:
Content is protected !!