Change Management Plan Template
$20 – $60
Licensing Options
Product FAQs
Product Description
CIOPages.com Change Management Plan template outlines the content fields which should be a part of a standard change management plan. The change management plan template includes all key headers, and subheadings, and brief instructions/hints on what content to draft.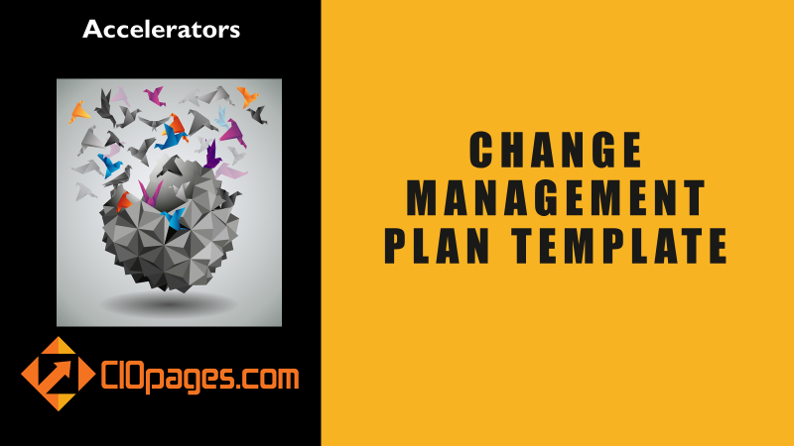 What is Change Management Plan Template?
The Change Management Plan Template is a practical and actionable template is in a Word format and hence companies can add/edit/modify the fields and add real content. A change management plan is an essential deliverable for a successful change management planning and implementation.
How is this Change Management Plan Template different than the Change Management Plans offered by CIOPages.com?
This change management template is a simple Microsoft Word document with blank fields for entering content with a set of simple hints. The change team will need to populate the materials in the template. On the other hand, the Sample Change Management Plans are a more detailed and proforma plan based on CIOPages.com change management framework.
Template Content Outline:
Overview
Strategic Context of the Change Program
Transformation Program Goals and Objectives
Transformation Rationale
Change Management Goals
Impacted Stakeholder Analysis
Leadership Commitment and Influence Mapping
Change Management Readiness Assessment
Prevalent FUD (Fear, Uncertainty, Doubt) Factors
Change Management Strategy
Change Management Activities
Change Management Components
RAID (Risks, Assumptions, Issues, Dependencies)
Metrics to Measure Success
Fine Print:
The CIOPages.com Change Management Plan Template is a digital product and hence absolutely no returns or refunds.
The Change Template may or may not fit your needs. Furthermore, you may be able to find a generic template for free and modify to your needs.
Sold on an as-is basis and without any implied or explicit warranties
Consultants and consulting firms who want to use it for their clients have a different pricing model.
The sale is for the template only and does not include customization or implementation help.
Please review our standard terms of service.
error:
Content is protected !!